/

/

The 25th annual Habitat for Humanity Gala raises over $500,000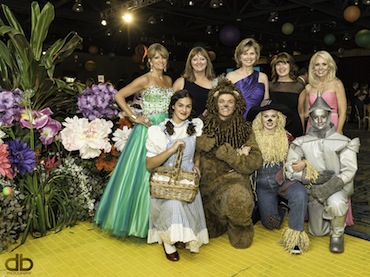 THE WOODLANDS, Texas – Montgomery County Habitat for Humanity (MCHFH) took their mission "over the rainbow" raising $536,000 at the 25th Anniversary Gala held May 10 at The Woodlands Waterway Marriott. Designed to build awareness and support for Habitat's mission to eliminate poverty housing by building decent, affordable homes in partnership with hard working families in need, the Gala was attended by more than 500 guests.
"There's No Place Like Home" was the theme for the elegant evening.
The theme for the black-tie Gala, which was the third annual event for MCHFH, was "There's No Place Like Home", complete with yellow brick road, Dorothy and her friends. Fabulous live, silent and bid board auctions were a highlight of the evening's festivities along with dancing to live music by the Richard Brown Orchestra. This year's Gala also featured an art project inspired by the theme. Local artists created art pieces portraying what home means to them that were auctioned off at the event.
Special presentations were made to the Gala Honorees – Woodforest Charitable Foundation and Woodforest National Bank (Foundation/Corporate Honoree), the late Bill Schilling and his wife, Judy Schilling (Community Honoree), The Woodlands United Methodist Church (Faith-Based Honoree) and Anadarko Petroleum Corporation (Humanitarian Honoree).
"We extend our sincere thanks to our major corporate sponsors, Anadarko Petroleum Corporation, Woodforest National Bank and Talisman Energy, and all of our sponsors who helped make this Gala such a huge success," said Larry Abston, President of the Board of MCHFH. "We are also extremely grateful to all the talented volunteers who served as Co-Chairs and members of the Planning Committee. The outstanding results of this event were attributable to their tremendous teamwork, creativity and commitment."
In the past 25 years, the Montgomery County affiliate has built 95 homes, with 37 in Habitat's Cedar Creek neighborhood. Proceeds from the Gala will help support Habitat's mission vision of a world where everyone has a decent place to live. For more information about Habitat for Humanity, please visit www.hfhmctx.org.