/

/

Local resident gets fresh start with help from Northwest Oral & Maxillofacial Surgery, Interfaith and Parke Rogers Dentistry
Local resident gets fresh start with help from Northwest Oral & Maxillofacial Surgery, Interfaith and Parke Rogers Dentistry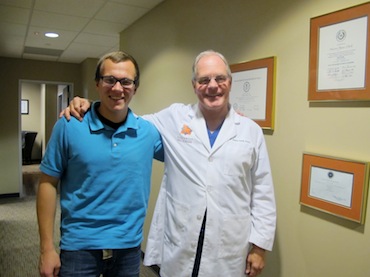 THE WOODLANDS, Texas - As a young boy, James Peterson was all too familiar with substance abuse. On weekend visits to his father's home, he was surrounded by alcohol and drugs. James had his first taste of liquor at the tender age of five. James isn't certain if he drank to be like his dad or to get the attention from him that he craved. Sadly, his father passed away from cancer when James was only ten years old, leaving a void that James struggled to fill with illicit drug use.

James' mother, Julie, recalls that James began to show signs of anger and rebellion when he was ten years old, around the same time as his father's passing. Although James had been adopted and was loved by his stepfather and mother, he was also troubled and confused. The quality of his schoolwork began to deteriorate; he often ended up in the principal's office, and began making friends with troublemakers. During junior high, James struggled with an addiction to pornography, attention-deficit disorder and an alarming affection for rap music artists such as Kid Cudy and Eminem. An incident involving a firecracker on school property landed James in an alternative school. He was eventually kicked out of the school district. By the eighth grade, James had been smoking cigarettes and experimenting with marijuana. He liked the way marijuana allowed him to "escape" from reality, and his interest in experimenting with other drugs began to develop.

James' parents were constantly trying to keep James on the right track. At one point, James was enrolled in the Methodist Children Home in Waco, a Christian residential program that provides assistance to children in need. It was there that James first tried Ecstasy, a synthetic, psychoactive drug that promotes feelings of increased energy, euphoria and emotional warmth and closeness. According to James, "I felt good, satisfied, blissful and euphoric."

James soon returned home. With renewed motivation and encouragement from his parents, he successfully completed his high school education through a series of online tests. He began working with his stepfather in his HVAC Repair Company. Despite taking steps in the right direction, James continued to seek drugs and the exhilaration and escape that they provided. At one point, high on Ecstasy, 15 year old James took his parents' car. It wasn't long until the police were on his trail. With glassy eyes and pockets filled with Ecstasy, James was soon in jail, charged with felony possession of a controlled substance. For nine months, James was clean. The day after he was released from probation, James spent the afternoon getting high.

In an effort to protect their younger children, James' parents kicked him out of their house. The next couple of years were fraught with temporary homes, experimentation with drugs, a seedy music scene and bad influences. And by now, James had acquired a habit for cocaine.

Family members pleaded with him to get clean. His parents and grandparents did everything they could to lead him in the right direction. And, although James knew it was the right thing to do, he wasn't committed. Rock bottom was still months away.

Multiple fresh starts, new jobs, and a loving girlfriend couldn't keep James clean. And, because of a chance meeting on the side of a busy Fort Worth highway, James was reintroduced to "Meth." James recalls staying up for seven days straight. "I was hooked. I was stealing money to buy Meth. I lost another job and was kicked out of another home," stated Peterson.

With only a few dollars left in his pocket, James paid for a hotel room. Once inside, he turned on the television set and heard the preacher on the screen declare, "Trust me. Let go. I will catch you." James said, "At that moment, I cried out to God, and prayed that He would show me the way."

His prayers were answered. His stepfather called the following day. "I want my son back," said his father. He had good news, too. There was an opening at Teen Challenge in Magnolia, a Christ –centered, faith-based residential program for adults and teens struggling with addiction and other life controlling problems. James has successfully completed seven months of the 12-month recovery program.

James found his way to Northwest Oral & Maxillofacial Surgery through Interfaith of The Woodlands and Interfaith Community Clinic. Because of his drug abuse, James' teeth were deteriorating and rotting. Through a partnership with Interfaith, Northwest Oral & Maxillofacial Surgery and Dr. Stephanie Parke of Parke Rogers Dentistry, James will receive the dental care that he needs including extractions, dental implant(s), fillings and restorative work.

Dr. Clark and Dr. Parke applaud James' commitment to Christ and his sobriety and are very pleased to be a part of his recovery. "We are looking forward to working with James. He's an awesome young man with a bright future. Stay tuned for updates as we complete his treatment plan," said Dr. Clark.