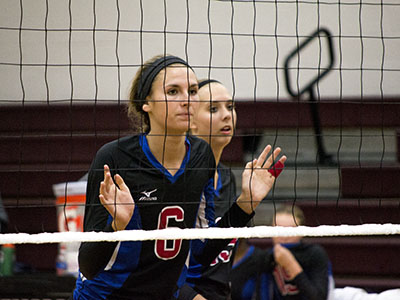 CONROE, Texas - The Oak Ridge High School Volleyball Team traveled to Conroe on Tuesday to take on the Tigerettes for a district match. The Lady War Eagles went on to defeat Conroe in three sets: 25-15, 15-18, 25-16.

In set one, Conroe took a 3-2 lead over Oak Ridge after a kill from sophomore Neena Brenson. However, the Lady War Eagles quickly took over the set, as an ace from Brooke Clark and kills from Carly Graham, Hannah Mikelonis, Hailey Lohnes and Clark puts the team back ahead14-8. Conroe tried to rally back with kills from Jozey Rodel and Brenson, and great defense from Jznae Kim, Rodel, and Hadley Ransom, but Oak Ridge could not be stopped. After some Conroe errors and kills from Oak Ridge's Molly Russell and Lohnes, the Lady War Eagles won the first set, 25-15, after Graham sets up a kill for Clark.

In set two, Conroe came out rearing to go. The gymnasium was full of fans rooting for the Tigerettes and the spirit was definitely alive. Conroe continued to have some powerful hits, and their energy only increased as set two began. Although behind in the beginning, Russell of Oak Ridge had a kill and tied it up with Conroe 2-2. Tigerette Jazzmin Kim was on fire and had kill after kill, aided by a solid defensive effort from Conroe middle blocker, Kendra Butler, who also had a kill. Oak Ridge didn't let up, however, and Lohnes got two kills, along with a kill from libero Raigen Cianciulli. The Lady War Eagles were soon up by four, 14-10, when Conroe called a timeout. Oak Ridge continued their streak as Graham set up a kill for Russell, not once, but twice in a row. Conroe still hustled on defense, including a block from Butler and Victoria Ratcliff, but after three aces from Oak Ridge's Lexi Overman, the Lady War Eagles took the second set, 25-18.

Oak Ridge only improved with each set and by the third, they demonstrated a great team effort both offensively and defensively. Conroe had a great play when Courtney Nettles set up a kill for her teammate, Rodel, but it wasn't enough as the Lady War Eagles took a 6-3 lead over Conroe early into the set. Oak Ridge kept their lead, although they were called in the net quite a few times. Conroe's Neena Brenson had a kill, but after errors from the Tigerettes, an ace from Oak Ridge's Clark and kills from Mikelonis and Rhyan Johnson, Oak Ridge has a 22-15 lead. Lady War Eagle Brooke Clark brought set three to an end with two kills, giving Oak Ridge the set, 25-16, and winning the match 3-0.

"I thought my girls did very well adjusting to the match and being able to adapt," said Oak Ridge High School volleyball head coach, Tommie Lynne Sledge. "We got better in several things from game one to two, and two to three. I think Conroe did an amazing job coming out on fire and swinging hard at the ball, and I think it took a few adjustments for our team to catch up to that. Tonight, this has been more than we have ever been called in the net all season. I felt like maybe we were anxious. They [Conroe] were swinging so hard and my blockers work everyday on blocking so they're wanting to get up there and slow the ball down for our defense, so that's something, you know, that's a daily battle, but I felt like we did an amazing job serving. Our serve receive was very strong, so those two things I think really just helped capitalize the match."

On Friday, September 18, Oak Ridge will play Atascocita at home and Conroe will take on Summer Creek at Summer Creek High School.