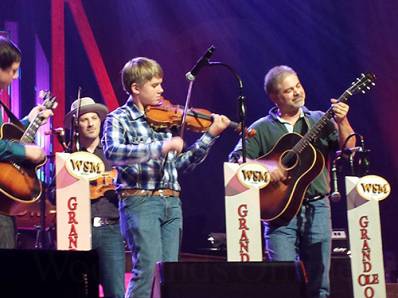 THE WOODLANDS, Texas — River Lee, sophomore and JV football player at The Woodlands High School, recently won the title of Grand Master Youth Fiddle Champion in Nashville, Tennessee.

His interest was sparked as a little boy with a toy fiddle. When he was only three years old, he decided that he wanted to learn how to play a real one. His wish came true at age four, and he started taking fiddle lessons.

The Arkansas native attended fiddle camps nearby just a few years after getting his first fiddle, where he got a taste of his first competitions.

"We lived in Arkansas and it wasn't too far away, and they had a fiddle contest at that camp," River's mom, Lynda Lee, said. "That was the first time he heard fiddle music, and he competed in that contest, and that has changed his whole life."

The family now travels all over Texas and The United States for River to perform and compete in fiddle as he accumulates titles from a variety of competitions, the largest of which were from the National Fiddle Contest in Nashville, Tennessee.

For River however, being named as the 2015 Grand Master Youth Fiddle Champion is exciting, but the friends he's made through the contests outweighs his titles.

"It feels good, but I just have fun," River said. "The contest part isn't really my favorite; it's just going up there with my friends. I have quite a few just because these contests are throughout the country, so I have a lot of friends."

As River has gotten older, he's gone from having structured classical lessons to Skype video calls with an instructor in Idaho. His musical ability stretches across a wide array of instruments, including the guitar, mandolin, bass, ukulele and a little bit of piano. He plays football to stay active and aspires to be an engineer.

"He's pretty much self-driven," Lynda said. "He's always been that way, even when he was little."

You can watch River's 2015 performance at the Texas State Fiddle Championship in Hallettsville, Texas here.