VOLLEYBALL: The Woodlands and Oak Ridge advance to face each other in Regional Finals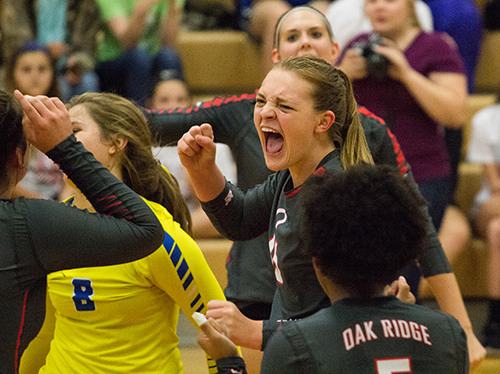 HUNTSVILLE, Texas — The Woodlands and Oak Ridge volleyball teams both had successful matches as they held 3-1 victories in the Regional Semifinals. The cross-town teams will face each other once again for the finals to determine who will go to the state tournament.

Falling to the Mustangs in the first set 25-21, the Lady Highlanders picked up their momentum and tied the game with the next set, and pulled ahead of Pearce 25-17 in the third set. Leading for the Lady Highlanders was senior Hannah Hickman, who scored the final and winning kill of the match.

Oak Ridge took the first set with a victory, but Highland Park tied the match back up 1-1 after a 25-22 second set. However, the Lady War Eagles pulled back ahead after a service error on Highland Park in the third set. Oak Ridge capitalized on their lead in the final set and won the fourth and final set 25-17.

With two local team victories, The Woodlands and Oak Ridge will meet again at Sam Houston State University Saturday, November 14 at 6 p.m. for the Regional Finals. This match will determine which team will get to compete at the state tournament.