/

/

Schulte Building Systems donates $50,000 toward Habitat for Humanity's new resale shop
Schulte Building Systems donates $50,000 toward Habitat for Humanity's new resale shop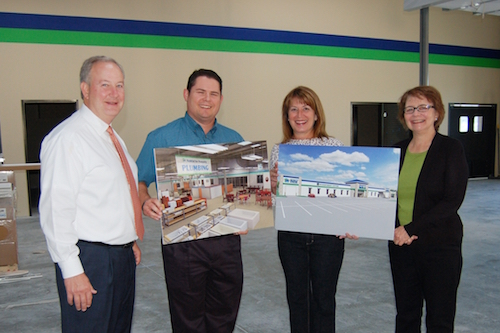 MONTGOMERY COUNTY, Texas - Schulte Building Systems has recently donated $50,000 toward the recent construction of the new "ReStore" home improvement resale shop which benefits Habitat for Humanity of Montgomery County.

"The Schulte Building Systems' team works very hard to be a responsible contributor to the community and is involved in numerous charities in the Greater Houston area," said Lisa Koetting, Community Ambassador along with her husband, Fred Koetting, CEO of Schulte Building Systems, which manufactures pre-engineered metal buildings, steel framing systems, and building components. "With a particular dedication to organizations that work to support children to improve the environment in which they live, and with construction being in the SBS wheel-house, the convergence of the two made getting involved in this project a perfect fit. David Taylor, our District Sales Manager for South East Texas, was able to come in and provide value engineering allowing SBS and Habitat for Humanity of Montgomery County to work together to create this beautiful new building, with the end result being to continue the mission of helping deserving families in our county."

Relocating to the new and expanded site on four acres at 9407 S.H. 242 in Conroe, approximately one and a half miles east from I-45 near The Woodlands, the new ReStore will offer four times the space of the current location.

ReStore is a non-profit home improvement donation center and resale store that sells new and gently-used furniture, home accessories, building materials, appliances and more to the public at a fraction of the retail price. The ReStore concept reduces sub-standard housing, helps improve living conditions, and is environmentally friendly by re-purposing items for reuse and recycling. Proceeds from the sale of donated items are used by Habitat for Humanity of Montgomery County towards its mission of building homes, community, and hope.

In an effort to facilitate decent, affordable homes in partnership with those in need, Habitat for Humanity of Montgomery County provides permanent housing solutions to very low-income working families, helping them to become homeowners and break the cycle of poverty. It is a faith-based nonprofit ministry, they are offered hope for a better future through a self-help solution.

"We are extremely grateful for this donation from Schulte Building Systems and we continue to be amazed at the outpouring of support we've received from so many caring businesses," said Barbara Smith, Executive Director of Habitat for Humanity of Montgomery County. "There's no better time to upgrade our ReStore than the marking of its tenth anniversary, and we are proud to introduce the new building to the local community as we encourage them to donate and shop with us to help benefit Habitat for Humanity of Montgomery County."

The new and improved ReStore location will be ready to begin serving the community in late January. The following are examples of items accepted for donation and featured for sale. For a more comprehensive list, please visit www.HabitatMCTX.org.


Reusable Building Materials

Furniture

Appliances

Flooring

Electrical

Cabinets/Countertops

Tools

Lumber

Plumbing

Doors

Lawn Equipment

Home Décor

Collectible Antique Items

For more information about Habitat for Humanity of Montgomery County or the ReStore Capital Campaign call 936-441-4663. To schedule a pick-up of donations of large items such as furniture or appliances, call 936-441-5888. Please visit the website at www.HabitatMCTX.org and also "Like" their Facebook at the link provided.