BASKETBALL: Highlanders improve to 4-1 in district after 73-63 win over Summer Creek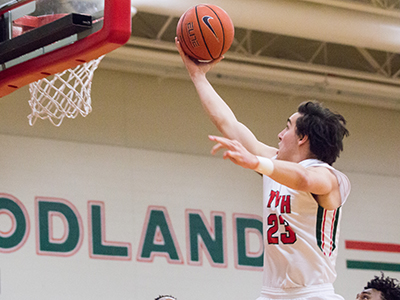 THE WOODLANDS, Texas — After spending the first half of their game trying to catch up to their opponent, The Woodlands High School returned with a big 73-63 victory over the Summer Creek Bulldogs, improving their district record to 4-1.

Junior forward A.J. Bullard started the game with a three point shot and a free-throw for four points on the board for The Woodlands, but some big plays by Summer Creek and an ankle sprain for James Primavera left the Highlanders tailing behind the Bulldogs for the entire first half of the game. The Highlanders managed to tie the score 30-30 by halftime.

The Highlanders returned to the second half with renewed energy, broke the tie, and several big scoring runs put them ahead 52-40 at the end of the third quarter. In the final quarter of the game, The Woodlands was able to maintain a wide scoring gap and closed the match-up with a 73-63 win.

The Woodlands head coach Dale Reed said he expected their face off against Summer Creek to be a dynamic one, especially with the athleticism of the Bulldogs' team. To make the comeback necessary, Reed said they needed to step up their defense.

"It was hard on our bigs because they went with such a small lineup, so it was hard for our bigs to guard some of their guards, but I felt like all of our guys really brought the effort," Reed said.

The Woodlands will close their first round of district play against Kingwood High School on the Mustangs' court Friday, January 22 at 7 p.m.