/

/

CHI St. Luke's Health celebrates opening of Springwoods Village Hospital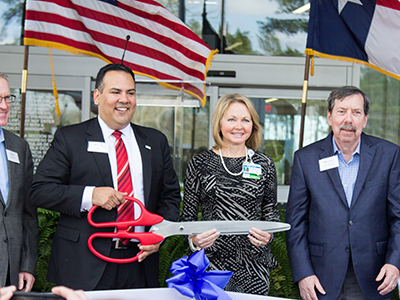 SPRING, Texas — CHI St. Luke's Health held a ribbon cutting ceremony at their new medical campus in Springwoods Village one month after opening their first and second floors at the facility.

After being chosen as the new master planned community's official healthcare provider by Coventry Development, plans for the Springwoods Village Hospital were in the works. David Argueta, President of CHI St. Luke's Health - The Woodlands, Lakeside and Springwoods Village Hospitals, said the new 1,800 acre community will, at its peak, have around 45,000 to 50,000 people, and the hospital will provide residents in North Houston and South Montgomery County easier access to ambulatory services.

"It makes a huge difference. You can have the comfort in knowing that you have a healthcare partner with you to walk through your healthcare journey, and you don't have to go far into Houston or 30 minutes north," Argueta said. "That's the unique opportunity that we were afforded. It's rare to get a chance—literally from the ground up—to grow with that community."

Paying an acute attention to even the smallest of details, down to the self-reparative flooring in the operating room, plays an integral role in anticipating healthcare's ever-changing nature. Argueta said that innovation and progress within the field happens so quickly, and the group wanted to offer the most state-of-the-art technologies in their newest campus.

"It's part of what we think our responsibility is to the community," Argueta said. "Every detail does matter, especially when you have this unique opportunity to build something from the ground up."

CHI St. Luke's hit the ground running with plans for the new hospital four years ago. Knowing the potential for the rapid changes in healthcare, a team of experts flexibly anticipated the different directions for the campus. Argueta said creating a whole new hospital for a whole new community took visionaries who could see the endless possibilities for the facility.

"We have a team that was able to be flexible and understood that as we got closer, we were going to have to make some quick decisions or changes in the plan to make sure that we brought exactly what was needed for the community," Argueta said. "What we planned four years ago doesn't look like what we sit in today. There was continued optimization and rethinking to make sure that we brought in the best healthcare environment for the community."

CHI St. Luke's Health - Springwoods Village Hospital opened its first two floors for patient on January 19. The facility's remaining floors are scheduled to open latter this spring.