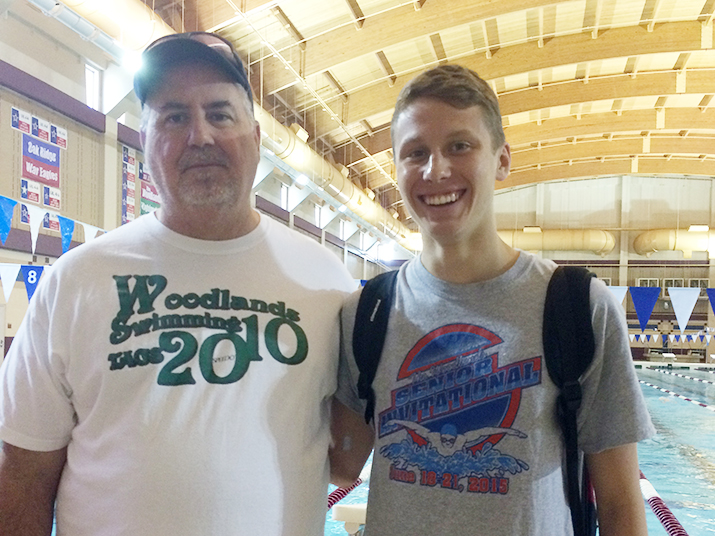 THE WOODLANDS, Texas — Eight members of The Woodlands Swimming Team (TWST) coached by Tim Bauer will be headed to Omaha, Nebraska for the 2016 Olympic Trials for this summer's Olympics.

The eight swim team members, with ages ranging from 15 to 24, have been training 20 to 25 hours a week for several years. Many are still trying to cut time down to qualify just one more event. Their dedication and determination is quite inspiring to all, including that of Matthew Anderson.

"I thought I was gonna be in the MLB one day," Matthew laughs at the memory.

Michelle Anderson, Matthew's mom, recalls how Matthew refused to go underwater, but he was adamant about signing up for swim team. She happily remembers the day Matthew made the swim team.

"At age six, he came running out, screaming, 'I made the swim team! Coach [Fred] says I'm going to be the best darn backstroker,'" Michelle said.

During his freshman year of high school, Matthew began to seriously focus on swimming, but he severed his vocal cords. Matthew could barely speak for eight months. His junior year—a crucial time for recruitment—Matthew fell ill with pneumonia, twice, causing hospitalizations. He later discovered he only had 20 percent airflow to his lungs and struggled with breathing after his recovery. The site of his surgery to open up the airflow became infected and caused an additional procedure, keeping him out of the pool for even longer. Soon after, Matthew fractured his tailbone.

With the injuries and illnesses in a short span of time, Matthew did not have high hopes for moving forward in his swimming career. But, as an incoming senior at The Woodlands High School, Matthew's recruitment for collegiate swimming began.

"It started to become more real," Matthew said. "Up until that point, I wasn't expecting much."

Despite adversity, Matthew persevered. His faith was his main reason to keep swimming. He said the verse Philippians 4:13—"I can do all things through Him who gives me strength," — motivated him.

"Strong faith, good home support and good coaching is what has brought him to where he is today," Michelle said.

Currently, Matthew swims for Indiana University in addition to TWST. His ultimate goal is to make the 2020 Summer Olympics USA team, but while he believes it's too early determine any probable result, he is confident that two of his teammates, Michael McBroom and Tripp Cooper, have a good chance at making the team. McBroom and Cooper are both return competitors in the Olympic Trials.

"This is Michael and Tripp's second Olympic Trials, and they're ranked in the top 15," Coach Tim Bauer said. "In two of his three events, Michael is in the top three."

As the team heads to the Olympic Trials, their goal is to gain experience, to have fun and to do their best. The team keeps a humble attitude, realizing the most important aspect of swimming is the community with each other. Their own stories have pushed them to successful swimming careers. While nervous for what is to come, the team remains mindful of advice they've been given by Bauer, especially that there is no "I" in "team." The athletes are especially dedicated to their coach and want to represent TWST at the Olympic Trials as a motion of gratitude for all that Bauer has done for them.

"I swim for the camaraderie," Matthew said. "If you just enjoy the people around you, it makes swimming a lot easier, and you're able to go a lot faster because you're just having a good time while you're doing it."

"[The highlight of swimming is] having your whole team support you all the time," Zoe Gawrosnka, one of the TWST members competing at the Olympic Trials, said. "I remember when I got my trials time. For at least the next two weeks, everyone was telling me, 'Congrats,' and 'Good job, Zoe.'"

The following athletes who will compete for a spot on the Olympic team are:

Matthew Anderson, age 19, TWST/Indiana University

Tripp Cooper, age 22, TWST/Universtiy of Texas

Zoe Gawronska, age 15, TWST

Michael McBroom, age 24, TWST/University of Texas

Colin Murphy, age 18, TWST

Ashley Pollock, age 17, TWST

Jonathan Tybur, age 20, TWST/Texas A&M University

Kelsey Vetalice, age 19, TWST/University of North Carolina

"They are all driven; they want to succeed and do things," Bauer said. "They take that into everything they do."