/

/

Local business leader shows appreciation for law enforcement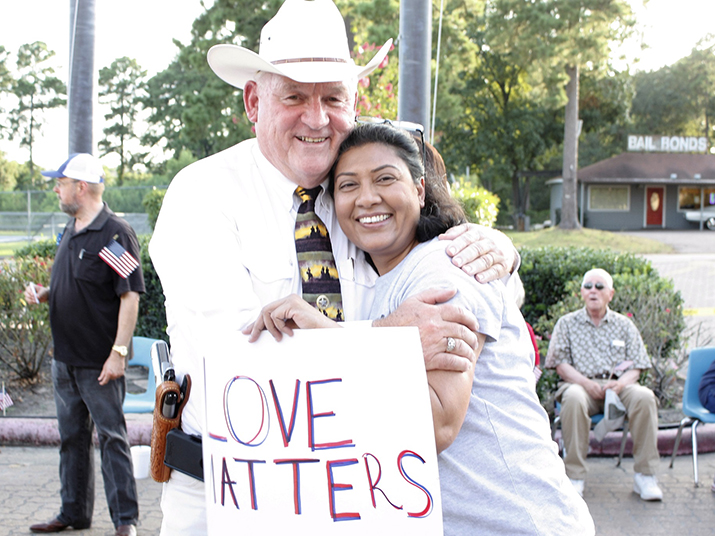 THE WOODLANDS, Texas – Despite the ever-widening chasm between police and public that seems to be dominating the headlines lately, one local business owner and humanitarian is seeking to bridge the gulf.
Priyanka Johri is not only the owner of Woodlands Eco Realty & Executive Rentals, she is also the founder of Pure Mutts Animal Sanctuary, as well as a community leader striving to bring out the best in any situation.
Recently, she held a two part "Love Matters" event series, "Hug a Cop" and "Wall of Love," which brought numerous residents and members of law enforcement together in an environment designed to heal wounds and open eyes. The event will be held again on Tuesday, July 19 at the Precinct 3 offices located at 1520 Lake Front Circle in Spring.
"Come join out family as a show of solidarity for our community's law enforcement," Johri invited. "In these trying times, we believe we need to rise above our differences ad stand united. Be the change you want to see in this world." Johri and Woodlands Eco Realty have enjoyed a long history of supporting area law enforcement agencies, including being the few local businesses to provide the meals for hungry officers on duty on New Year's Eve.
At the first part of the Love Matters event, members of the community met to create uplifting messages on posters and signs in support of area peace officers. Additionally, blue ribbons were passed out to tie around trees so attendees could show that they were "backing the blue."
At the Tuesday event, members of the public are invited to come to the Precinct 3 offices to display the signs that were made and to create a "wall of love" around the law enforcement members there and also offer "free hugs" to the men and women in blue.
"I hope members of the public and media alike can come to this event as we come together to heal the fractures that seem to have been forming," said Johri. For more information on this event, call 832-277-3577 or visit www.facebook.com/woodlandsecorealtors.