/

/

Executives around The Woodlands raise walls for single mother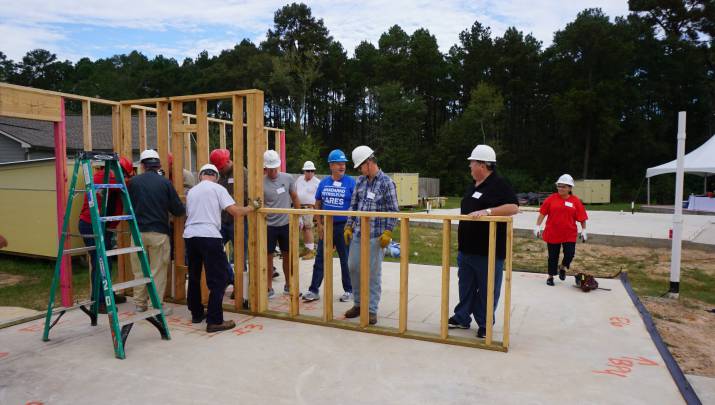 MONTGOMERY COUNTY, Texas -- Executives and representatives from organizations including Halliburton, Anadarko, Cheniere Energy, Woodforest National Bank, Pisula Development, Savills Studley and Top Golf recently teamed up with Habitat for Humanity of Montgomery County, TX (HabitatMCTX) to raise the walls on a home for Michelle Flores, a preschool teacher who is a single mom.
Among them were also long-time supporters of the HabitatMCTX Dreambuilders Giving Society.
Michelle Flores had struggled for two years to "land on her feet" since her divorce, when she found herself entering the workforce for the first time and having to figure it all out on her own. Two years later, she finds herself in the company of people who are giving back by helping her raise the walls on her new home. The team of 20 people worked quickly and efficiently to frame the two bedroom home. During lunch they learned more about Habitat's mission and the different ways to get involved with such a worthy cause.
. Dreambuilders are individuals and families who give $1,000 or more to HabitatMCTX throughout the year. As a member of the Dreambuilders Giving Society, benefits include invitations to exclusive events throughout the year as well as opportunities to experience the transformation of families who are working to see their dreams realized.
Habitat for Humanity of Montgomery County, TX is a 100 percent self-funded affiliate of Habitat for Humanity International (HFHI). Founded in 1989, HabitatMCTX has built more than 110 homes in Montgomery County and continues to increase the number of people served. For more information, visit www.habitatmctx.org.