/

/

The Woodlands UMC youth break world record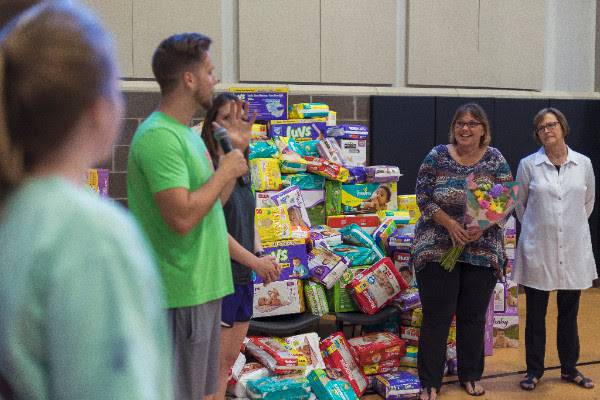 THE WOODLANDS, Texas -- Rebelbase Student Ministry, The Woodlands United Methodist Church's program for junior high and high school students, broke a Guinness World Record on April 7 and 8 by collecting 12,540 diapers for charity over a 24-hour-period, beating the old record of 10,000.
The massive haul was the focus of Make the World More Awesome, the centerpiece of Rebelbase's Forge weekend, their annual discipleship event. Each year, the student ministry's leaders pick an individual that their youth can honor in some way.
This year's beneficiary was Eva Joy, the founder of The JoyHouse, a local ministry that provides shelter and support to single mothers experiencing a crisis pregnancy. Joy was on-hand at the conclusion of the 24 hours to accept the diapers and a plaque honoring her and The JoyHouse for her service to the community.
"The diapers are so amazing," Joy says. "I was so surprised. I've never seen that many diapers in one spot. They're definitely going to be put to use. We are working on clearing out an area to store them."
The timing couldn't be more perfect as The JoyHouse upgraded from an 1100-square-foot home to a 4700-square-foot home on its eighth anniversary in January. The new location will allow them to house up to 16 mothers and their children, including, for the first time, pregnant mothers who already have other children (under age four).
"We're real excited about it, and we can't wait to get the house filled with people," Joy says. "We want to make it as easy for a mom to choose life for her baby as it is to abort. We want to make a big dent in abortion."
Caitlin Dale, Rebelbase's High School Ministry Assistant, dreamed up the Make the World More Awesome campaign a few years ago, and it has since become a key part of Forge weekends. Previous years have seen students throw a parade for a church worker who set aside a professional football career to take care of his family, a concert (including a backing band and crowd) for a youth with special needs who loves to sing, and a vow-renewal ceremony for church couples who had been married for more than 50 years.
When it came time to plan this year's event, Rebelbase's staff originally wanted to throw a baby shower for a teenage mother. That seed of an idea evolved when they heard about the work Eva Joy was doing at The JoyHouse.
"The heart of the campaign has always been to honor someone who doesn't get recognition but does an incredible job and goes about their business and loves people," Dale says. "We wanted to do something that would blow her mind."
Youth were asked to bring diapers to donate at check-in for the overnight event.
"After the first night, we already had 7,688 diapers," Dale says.
When the initial Friday night influx of diapers wasn't enough to break the world record, the students regrouped on Saturday morning and set out to hit their mark, eventually doing so by the presentation ceremony later that afternoon.
"I think the neatest thing was watching our students see this goal set before them that has a purpose and has this person behind it," says Caitlin's husband, Michael Dale, Rebelbase's Director of High School Ministry. "Instead of them being like, 'I already brought diapers, it's no big deal,' they made it their personal mission to meet this goal. You'd think, 'Oh, they're just kids,' but it amazes me every year the heart they have to get behind it whenever you set the vision for them."
Rebelbase staff are in the process of working with the Guinness Book of World Records to get the achievement officially confirmed in honor of Eva Joy.
Learn more about The JoyHouse at thejoyhouse.net and about Rebelbase Student Ministry at rebelbaseonline.com