/

/

6 questions with Ruthie Foster: Native Texan in concert April 21 at Dosey Doe in The Woodlands
6 questions with Ruthie Foster: Native Texan in concert April 21 at Dosey Doe in The Woodlands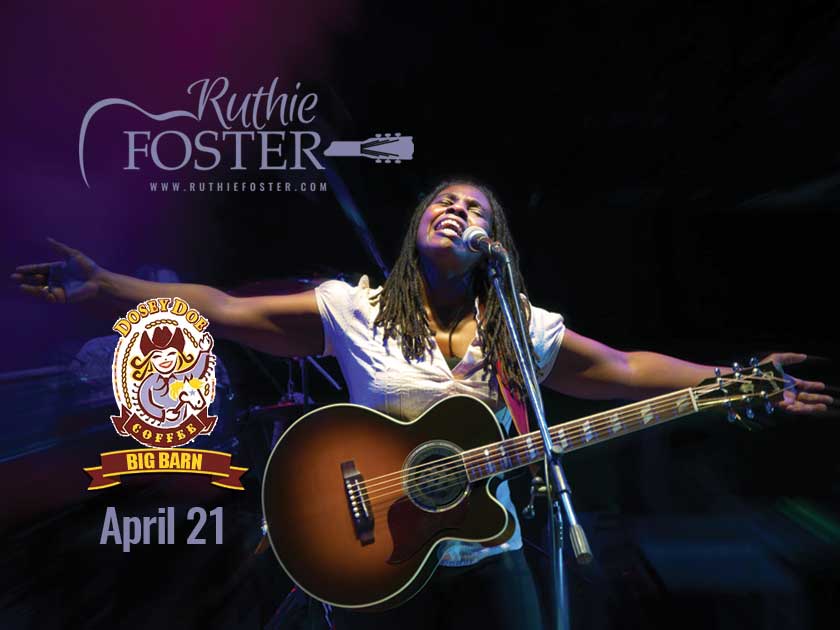 THE WOODLANDS, Texas – Native Texan Ruthie Foster will take the stage Saturday April 21 at Dosey Doe in The Woodlands.
The award-winning singer/songwriter has a unique sound that is hard to fit within any one genre, but could be described as "blues with a gospel-infused feel."
Woodlands Online chatted with Foster about her humble beginning and how it blossomed into a fulltime career – with a stint in the Navy along the way.
Your passion for singing began in an East Texas church when you were just a little girl. Tell us about that.
Church was a part of everyday life growing up. Music pretty much got my attention while growing up with kinfolk at church, and I had an uncle who played piano for our church. We spent a lot of time there, and it's where I felt most comfortable.
You did four years in the Navy (1986-1990) and then four years in the reserves. Why did you join the military?
I tried to get into the Air Force while I was in high school and my mother wasn't having it at all, mostly because our family had gone through a lot of different changes with my stepfather passing away, my mother raising us herself, and then she became ill with lupus. I did go to college (Waco) for music and graduated with honors from the performing arts department as a vocalist. But I still had this military bug in my ear. I really wanted to serve in some branch of the military, so I went into the Navy. It was really to take a break from music. I grew up with music, I grew up singing, and went on to study music. Joining the Navy and not being a part of the music life was something different. I worked on helicopters in the Navy my first year.
You sang for the Navy band, Pride, and after active duty, you made your way to New York City. What was that like?
I met incredible artists -- not just singers, but poets and dancers. As a songwriter it was a great place to be and I loved it. I left because my mother became ill again, and I really missed Texas. I had signed with Atlantic Records while I was up there. I fulfilled my obligation to that record company, and I was able to come home.
What did you do when you got back to Texas (Bryan-College Station)?
When I moved back (1993) I wasn't really doing much music. I played piano at my church, but I wasn't really doing gigs in the beginning. Again, I needed another break and I was taking care of my mom. While I was in the Navy I got another education in broadcasting, so I worked at a TV station for a couple of years. They were training me to be the evening news director. It was a whole other life, and I loved that too.
How did you get back into the music industry?
I met a lot of musicians while working in TV broadcasting. They were TV cameramen, editors and such by day, musicians by night. I started playing at coffee shops with them. They found out I could not only play, but sing and write. They coaxed me into putting a band together.
Editor's note: Foster signed with Blue Corn Music and has since released several studio albums, most recently Joy Comes Back in 2017.
What can we expect from your performance at Dosey Doe in The Woodlands?
Blues, gospel, a little bit of reggae. You will hear the songs that are dear to my heart, and a few songs from the new CD. It's a hallelujah time!
Want to go to the show? Enter here to win four tickets, plus luxury transportation to and from Dosey Doe! Contest closes Monday April 16.