Cooper Hosts SPC Championships, Track & Field Teams Earn Best SPC Finishes Ever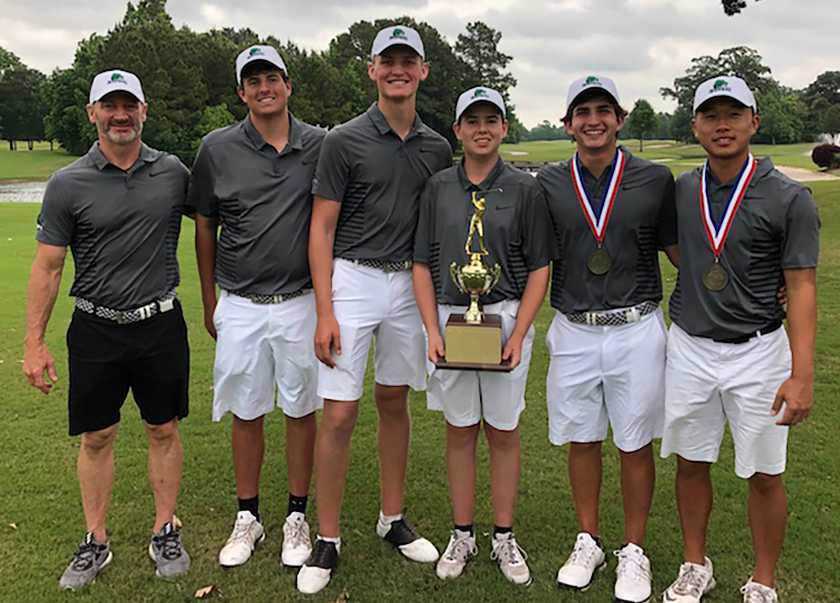 SPC CHAMPIONSHIPS at St. Mark's
Girls' Results • 5th Place
Obie Amudo - SPC Champion Triple Jump & 7th Long Jump
Madison Breaux – All SPC 300m Hurdles (2nd), All SPC 100m Hurdles (3rd)
Uche Oguchi – All SPC 800m (2nd)
Ava Minarovic – 7th 1600m
Amara Oguchi – 7th Shot Put
4X800m Relay – All SPC (3rd): Ava Minarovic, Uche Oguchi, Katie Drake & Madison Breaux
4X400m Relay – 4th Place: Madison Breaux, Emilie Albers, Uche Oguchi, Ella Winter
Boys' Results • 5th Place
Gregory Groppell – SPC Champion Discus 151' 10" NEW SCHOOL RECORD
Ebube Oguchi – SPC Champion Shot Put 52' ½" NEW SCHOOL RECORD
Tega Ewherido – ALL SPC 300m Hurdles (2nd) 40.14 *NEW SCHOOL RECORD
Evan Burchfiel – 8th Triple Jump
4X400m Relay – All SPC (2nd) 3:25.55 NEW SCHOOL RECORD: Thomas Elkoury, Evan Burchfiel, Tega Ewhierdo, Eric Grosser
Coach Scott Holland: What an end to a fantastic year! We achieved our best-ever finishes as teams at SPC, three SPC event champions, 11 All SPC performers, and four school records fell.
Obie Amudo successfully defended her SPC Triple Jump Title with her season's best jump on her final jump. Greg Groppell and Ebube Oguchi dominated the throwing events, each winning the title with a school record effort on their final throw. Madison Breaux collected all three All SPC Medals. Uche Oguche and Tega Ewherido earned All SPC in two events. Several other athletes achieved Season Best and Personal Records set at the SPC Championship. I am so proud of these kids and coaches. Great effort in practice led to this banner year on the track. We will lose some key seniors; Obie Amudo, Ebube Oguchi and Eric Grosser however, we have more returning and upcoming athletes that we hope will continue to keep Cooper Track & Field going strong.
BOYS' & GIRLS' GOLF
Cooper Hosts SPC Championships, Three Earn All-Conference Honors
The John Cooper School boys' golf team finished in second place, behind conference-rival Kinkaid, at The Southwest Preparatory Conference championships on April 30 to May 1 at Woodforest Golf Club. The girls' team finished in fourth place at the Dragon-hosted event.
Cooper senior Ben Wong (71-69) and junior Christopher McDonald (78-75) led the boys' team with a second and seventh medalist respectively, earning them all conference honors. Leading the girls' team was senior Andrea Gomez (73-71) with second medalist and all-conference honors.
Fellow Dragons on the boys' side were Grant Carter (79-79), Sean Kelly (81-81), and Davis Noyes (86-95). Mady Tozer (96-92), Claire Coleman (97-96), Susie Teuscher (107-114) and Tori Osmond (126-116) rounded out the girls' team.
PHOTOS:
BOYS' TEAM: JCSspcBOYSgolf.jpg: Coach Rod Gold, Sean Kelly, Davis Noyes, Grant Carter, Christopher McDonald and Ben Wong.
INDIVIDUAL RUNNERUPS: JCSwong.gomez.jpg: Ben Wong and Andrea Gomez
BOYS' BASEBALL
Dragons Tie For Third Place in SPC
SPC Championship Tournament Note: due to rain delays in Dallas, all SPC games were played on May 5
5/5 Opening Round: Cooper vs. Irving Cistercian • 11-7 WIN
WP: Evan Minarovic (9 K's)
Hitting highlights:
Evan Minarovic was 4-5 with 1 RBI, 2 doubles, 1 triple
Evan Godwin was 4-4 with 4 RBI, 1 double, and 1 home run
5/5 Championship Quarterfinals: Cooper vs. Fort Worth Country Day • 2-0 WIN
WP: Reed Smith (complete game four hit, eight strike out, shut out)
Hitting highlights:
Logan Leax was 2-3
Evan Minarovic was 2-4
5/5 Championship Semifinals: Cooper vs. Episcopal • 1-8 LOSS
LP: Evan Godwin
Hitting highlights:
Evan Minarovic was 1-4 with 1 RBI
Team notes: Cooper ends the season 24-14 and 6-3 in SPC south zone and championship play and finishes tied for 3rd place in SPC. All three SPC losses are to Episcopal and Kinkaid who will meet in the finals. This ties the highest finish in Cooper baseball history in the SPC with the 2006 team.
From Coach Brent Landrum: I could not be prouder of this team. To sit in a hotel for two days while it rains and then have to play three games in one day is very hard. We had the lead against Episcopal going into the bottom of the 5th but we couldn't hold on. At one point, Reed Smith and Evan Godwin combined to throw 11 straight scoreless innings vs. the #2 seed from the North, Fort Worth Country Day, and the #1 seed from the South, Episcopal. Offensively we had 27 hits over the three games. The defense was outstanding all day long. I tip my hat to this team. What a great year. I am already looking forward to the 2019 season.
GIRLS' SOFTBALL
Softball Is Fifth In SPC
5/3 Opening Round: vs. Hockaday • 9-0 WIN
Pitcher Eryn Sanchez dealt a shut out to Hockaday. She lasted seven innings, allowing one hit and zero runs, while striking out 16 and walking zero.
Scoring opened up in the second inning, when Sarah Goossens singled on a 1-0 count, scoring a run. Three runs were added to the fourth inning. Grayson Sloop, Sanchez and Goossens each had RBIs. The Dragons had a total of 13 hits–Sanchez, Ally Flinn and Kaitlyn Harris added multiple hits, with Sanchez leading with four. Dragons didn't commit a single error in the field with Harris collecting the most chances in the field with 18.
5/5 Championship Quarterfinals: Fort Worth Country Day School • 6-7 LOSS
Dragons lost the lead in the bottom of the sixth for a heartbreaking 6-7 loss. In the top of the third inning, the Dragons tied up at two when Kaitlyn Harris doubled on a 3-1 count, scoring a run. The Dragons tallied nine hits–Sreya Nalluri and Harris each led with three hits.
note: due to inclement weather and rain delays, follow up games were canceled.
From Coach Nicole Hedden: We had a remarkable 2018 season; even with an emotionally tough loss yesterday, this has been one of the best group of girls we have coached. Their leadership, dedication and passion for the game of softball is truly amazing. It has been a pleasure to coach this group of girls. We are losing five seniors who were the heart and soul of this team. They were all given a role and exceeded expectations. They will truly be missed, and we are looking forward to their success in the future. The underclassman will have some big shoes to fill.
VARSITY TENNIS
Girls' Team
Opening Round vs. Episcopal Dallas • 1-3 LOSS
Consolation Semifinals vs. St. Stephen's • 3-0 WIN
All other consolation games canceled due to inclement weather.
Boys' Team
Opening Round bye
Championship Quarterfinals vs.Greenhill • 1-3 LOSS
Consolation vs. Kinkaid • 2-3 LOSS