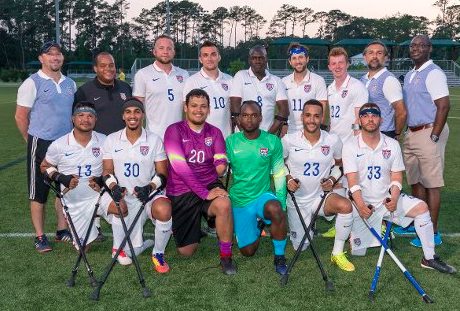 THE WOODLANDS, Texas -- The club hosted a three day event where USA, England and Haiti amputee national soccer teams competed against each other at Gosling Sports Park, The Woodlands, TX. This event was staged to help the teams prepare for the World Cup which will be held in Guadalajara, Mexico from October 25 - November 5, 20 18.
Results
Match 1: Haiti 1 USA 0
Match 2: England 6 Haiti 0
Match 3: England 10 USA 1 (Grove)
Match 4: Haiti 2 USA 2 (Booker 1, Calabria 1)
Match 5: England 7 Haiti 1
Match 6: England 6 USA 0
Team Records
England 4-0-0 (12 points)
Haiti 1-2-1 (4 points)
USA 0-3-1 (1 point)
"The US National Amputee Soccer team thanks the Houston Dynamo | Dash Youth Soccer Club and Coach Keith Johnson for organizing the successful Lone Star Invitational matches between USA, England and Haiti this past weekend," said Eric Lamberg, Head Coach, USA Amputee National Team. "The fields were set up great and all the volunteers helped make this a memorable event."