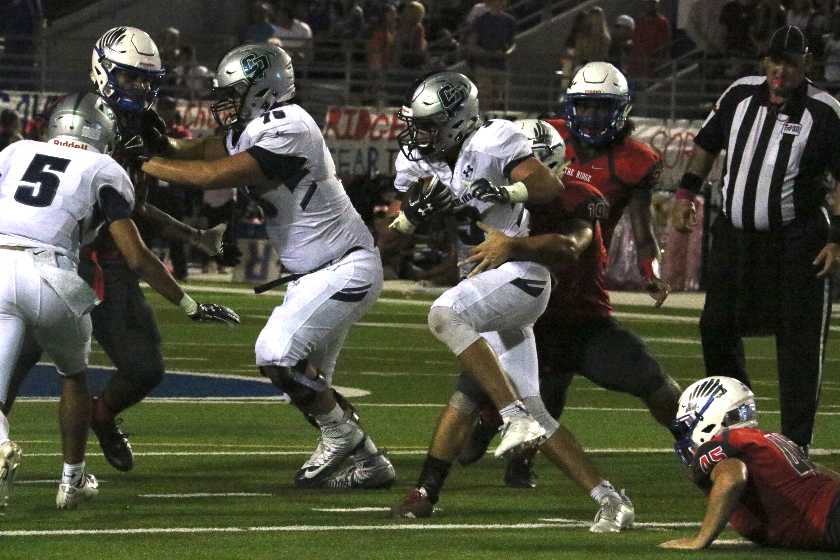 THE WOODLANDS, Texas— Friday night at Woodforest Bank Stadium saw a classic rivalry between the College Park Cavaliers and Oak Ridge War Eagles. Both teams were looking to make a last push for playoff contention. The Cavaliers defeated the War Eagles 23-21.

College Park junior running back Quajon Charles has been the go-to threat for the Cavaliers since week one of the season. Charles didn't take long to impact the game, taking the opening kickoff more than 40 yards. The return was only a glimpse of the tailback's return ability. After three and outs by both teams, the Cavaliers made the first mistake of the night when senior Quarterback Jake Hunnicutt's pass was picked off by Jordan McDavis early in the first quarter. The turnover would set the War Eagles up in Cavalier territory, later capped off by a Harrison Smith touchdown run. On the ensuing kickoff, Quajon Charles one-upped himself from earlier, taking the kick back 93 yards for the Cavs first score of the night.

Special Teams played a significant role in the Cavaliers scoring in the first half. After a stalled War Eagle drive, D'Majai Bailey returned a punt into Cavalier territory. College Park took advantage of the small field, and Hunnicutt punched in their second touchdown with a 1-yard QB sneak, bringing the score to 14-3 at halftime.

The War Eagles came out firing in the second half with a long pass from Blaine Romero to Darrius Jelks, setting Oak Ridge up in the red zone. The two would end up connecting again for a 10-yard touchdown. The War Eagles two-point conversion attempt was good, tying the game at 14 apiece. Logan Letney would score the final War Eagle touchdown of the night with a 2-yard bootleg, giving Oak Ridge a 21-14 lead.

The dramatic fourth quarter began when a second quarterback sneak from Hunnicutt looked to tie the game up at 21. On the following extra point, the refs called Andrew Lutz's kick no good. After the Cavaliers defense held the War Eagles to a three-and-out, the Cavaliers would regain possession with less than three minutes to go in the game. The Cavaliers only needed one play to reach field goal range when Hunnicutt hit Bailey for a big gain. No confusion this time as Andrew Lutz nails the game-winning field goal, granting the Cavs their first win over the War Eagles in two years.

Our On-Demand Broadcast was brought to you by Vinny Sinisi Real Estate with replays presented by The Woodlands Dental Group.