/

/

New Danville's Glee Club to Perform Christmas Carols at Jazzy Junque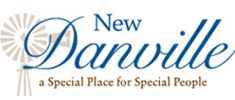 WILLIS, Texas -- New Danville's Glee Club will be performng at the Jazzy Junque Resale store on Decemver 13, 2018 at 1:00 pm. The Community is invited to drop by to hear beautiful Christmas carols. Under the direction of Music Insructor Jennifer Mauboules, the group will perform many of the Holiday favorites.

Glee Club members are: Amiri Ali, Brenda Lovell, Alyx Gautier, Kristen Mahaffey, Donna Credeur and Nancy Hooker.

Jazzy Junque is New Danville's upscale resale store. The store offers high quality home decor items at a fraction of the original cost.

New Danville serves adults with developmental and intellectual disabilities in an environment promoting dignity, respect and individual choice. The day and residential programs was developed to empower and maximize personal independence by offering an environment that allows people the opportunity to learn social and money-skills, participate in product-based and job skills-training to promote independence and self-reliance, and ultimately grow by offering activities that enrich the mind, body and spirit. New Danville is a Texas not-for-profit 501(c)(3) charitable organization.