Houston Astros bring joy to patients at Houston Methodist The Woodlands Hospital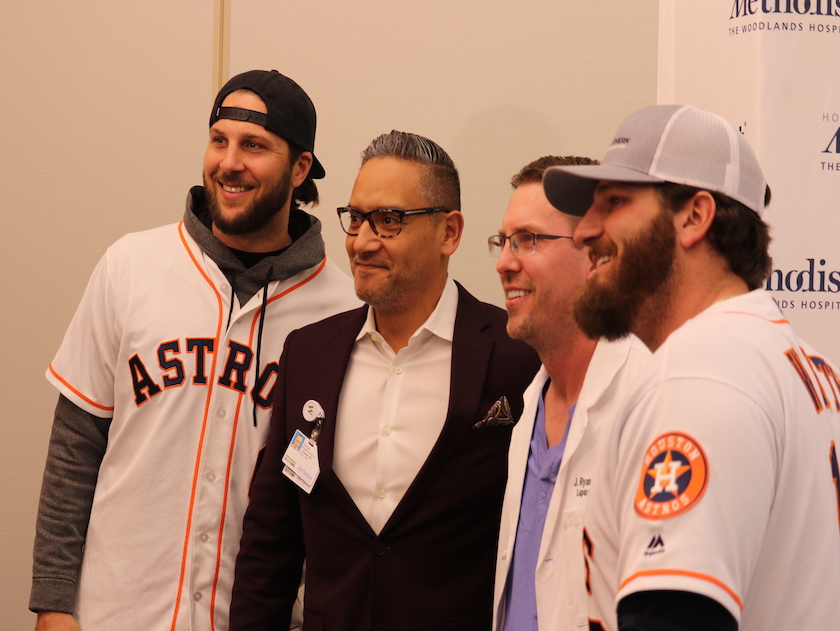 The Woodlands, Texas -- Thursday, Jan. 24 patients at Houston Methodist The Woodlands Hospital were delighted by a personal visit with Jake Marisnick and Tyler White of the Houston Astros. Halle and Savannah, members of the Astros Shooting Stars, and Geoff Blum, announcer for the Houston Astros, were part of this caravan spreading cheer throughout the hospital.

Marisnick and White spoke of the joy it brings them to interact with the community on a personal level. They are grateful for the opportunity to thank the fans for their support.

"We get a chance to show our personality, and we can see their personality, too," said Marisnick. "We see the fans' eyes light up."

As the Astros caravan walked the halls of the hospital, smiles appeared on the faces of the staff, visitors and patients. The mood in the air noticeably lightened.

Baby Maverick was only 2 pounds, 1 ounce when he was born. His parents are huge Astros fans. Despite the challenging circumstances with their son's health, they were excited to receive the special visit which brightened their day.

Another patient experienced complications and health problems after the birth of her daughter in December. She expressed appreciation for the change of pace from the day's usual monotony. The one-on-one interaction with the players was definitely the highlight of her day.

"The hospital carries a lot of patients from young and old. And these guys have a chance to go out and visit them," Geoff Blum said. "And you see the same look in their eyes as they come down the hallway from young and old. They get that excitement and that youthful exuberance comes out in some of the older patients."

That statement was undoubtedly true for Chapman E. Baber. "He didn't want everybody to know how excited he was," Baber's family member said, "like a little kid!" Baber, a loyal fan, soaked up the full experience of his visit with the players. He was proud to share that his sister regularly takes him along to attend Houston Astros games.

As Baber enjoyed the attention from Marisnick and White, the nurse reported that his blood pressure increased, a healthy improvement for him. The cheerful spirit these visits bring to patients clearly has a positive impact on both their mental and physical health.

Community involvement is the focus of the Houston Astros Caravan. They made stops in multiple cities and locations this week.