/

/

The Pavilion Welcomes "America's Orchestra" to the Main Stage for 30th Season Community Celebration
The Pavilion Welcomes "America's Orchestra" to the Main Stage for 30th Season Community Celebration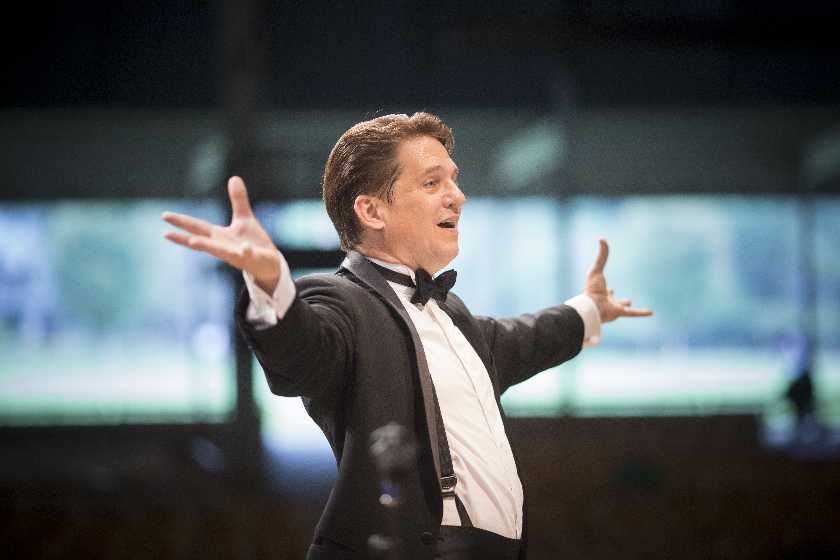 THE WOODLANDS, Texas – The Pavilion will kick off its 30th season of presenting the arts to The
Woodlands and beyond with a community celebration featuring a special performance by The
Boston Pops on Tour Thursday, March 21, at 8 p.m. Renowned Principal Pops Conductor Keith
Lockhart and "America's Orchestra" will celebrate the music of John Williams, one of the greatest
film composers of all time. Mezzanine and lawn seating are free. Presented by Woodforest National
Bank, tickets are $35-$50 for reserved orchestra seating. Gates open at 6:30 p.m.

To commemorate the anniversary season, The Pavilion has partnered with graphic artist Carlos
Hernandez to design a limited edition poster for our supporters. The first two thousand people to
enter the gates at the event will receive this limited edition poster.

Community members are invited to join the celebration with pre-concert festivities in the North
Plaza starting at 6:30 p.m. including arts and crafts, The Pavilion Partners Instrument Petting Zoo,
sponsor activations and more. Guests are encouraged to stop by The Pavilion's memory wall for a
step back in time to reflect on their favorite shows, stories and experiences at the venue throughout
its history.

"We are honored to provide top-quality live performances to our community and to our region. And
like the initial dream of Cynthia Woods Mitchell in 1990, it is intended to be affordable and
accessible in keeping with the venue's mission of fostering new audiences and enhancing an
appreciation of the arts. I hope The Woodlands residents bring their families to The Pavilion to
support our performing arts events. Having The Boston Pops on Tour perform in The Woodlands on
our stage is a once in a lifetime event and I hope we pack the house," says Jerry MacDonald,
president and CEO of The Pavilion.

The venue first welcomed the symphony in 2002 and is excited to host this unique opportunity for
the community once again. The evening will feature excerpts from the Williams' best-loved scores,
such as Star Wars, Harry Potter and Jurassic Park, as well as some lesser-known gems.

Families are also encouraged to enhance their performing arts experience with Mini Maestros, a free
and exciting program that makes the arts both fun and accessible for kids of all ages. By signing up for
Mini Maestros, children will receive: a special membership lanyard and badge, free reserved seating at
all performing arts events, early entry for Ice Cream Social or Hocus Pocus Pops, a free ticket to
Children's Festival and other great perks throughout the season. Families can register their children at
any of The Pavilion's performing arts events this season at a special booth located in the North Plaza
or online at www.woodlandscenter.org/mini-maestros.

Guests are welcome to bring a picnic from home or their favorite restaurant to enjoy in their seat or
on the lawn. Keep in mind however, that beverages are not allowed to be brought into The Pavilion
and picnics must comply with The Pavilion's bag size restriction and/or be in original packaging.
Examples include pizza within a pizza box or chips in original sealed packaging. Please visit The
Pavilion's website for more information on these restrictions. For those wanting to sit on the hill, lawn
chairs also are provided free for this event.

Preferred parking is available in the on-site Town Center Garage, located along Six Pines Drive.
Parking is $10 per vehicle for this and most performing arts events. Tickets for on-site parking can be
purchased in advance at Ticketmaster.com and The Pavilion Box Office. Guests also may park in any of
the free parking lots off Timberloch Drive on the southwest side of The Pavilion.

If you would like more information about The Pavilion, please visit our website at
www.woodlandscenter.org. Look for The Pavilion on Facebook, Twitter, Snapchat, YouTube and
Instagram, or download The Pavilion's iOS or Android app.