/

/

Woodforest Golf Club Drives to Top 10 State List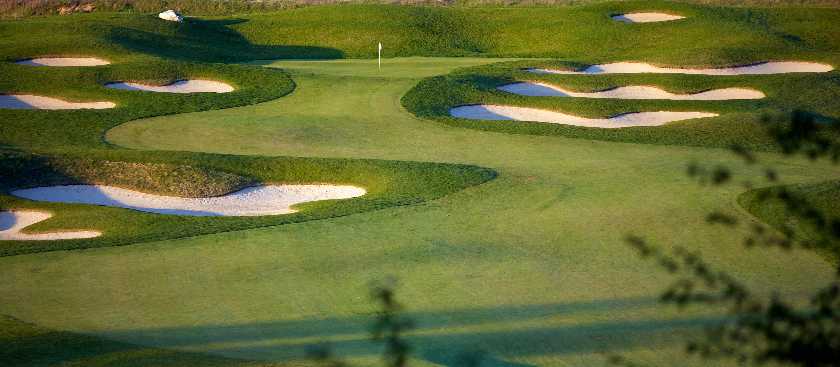 Montgomery, Texas –- Woodforest Golf Club is again listed among the state's top courses that have facilities open to the public, climbing to the No. 6 place in this year's rankings by Sports Day.

The club, located within the master-planned Woodforest residential development, is ranked No. 39 out of all the public and private golf courses in Texas. Last year, Woodforest Golf Club was ranked No. 70 overall and No. 16 among courses open to the public.

"The upkeep and playing conditions are very consistent at Woodforest Golf Club," said Tom Martty, General Manager of Woodforest Golf Club. "We have a history of having the best greens in Houston. Our attention to detail is evident driving into our club. And our facilities have a lot to offer — we have two enormous practice putting greens and a spectacular golf training center."

The list is compiled by a panel of golf professionals, instructors, players, general managers, course designers and others based on seven criteria: versatility, shot making capabilities, afterthoughts, beauty, maintenance and enjoyment.

Several neighborhoods are adjacent to the 27-hole course, which is a draw for buyers, says Virgil Yoakum, Vice President and General Manager of Woodforest.

"The golf course is particularly popular with our luxury buyers," Yoakum said. "In fact, our newest custom neighborhood — the Estate District in Pine Island — has properties along the course."

Woodforest Golf Club also offers a training center, 17,000-square-foot clubhouse, expanded pro shop and full-service Woodforest Grille. The course is considered a "player's course," Martty said, because the Steve Elkington design appeals to all skill levels. More than 50,000 rounds of golf are played there annually.

Sixteen builders offer homes in Woodforest priced from the $190,000s to the millions. Twenty-four model homes are now open. For more information about Woodforest, visit www.woodforesttx.com.