/

/

Oak Ridge seniors walk across the stage and into the next phase of life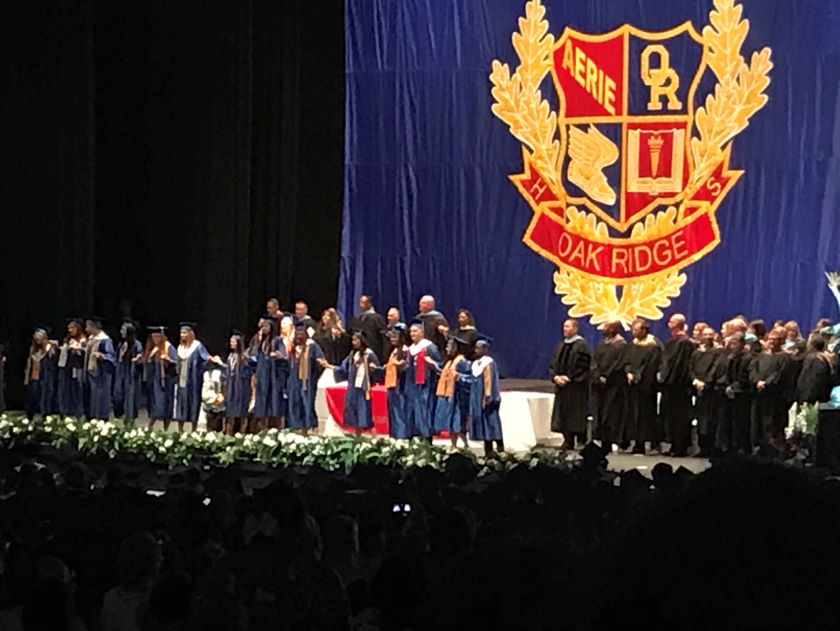 THE WOODLANDS, TX -- The 2019 senior class of Oak Ridge High School were the latest group to walk across the stage at The Cynthia Woods Mitchell Pavilion on Tuesday night. As with any graduation, the Oak Ridge commencement ceremony was a special night, as family and friends proudly cheered on the class of 950 students as they officially wrapped up their high school obligation.

It was also a special night for Oak Ridge Principal Tommy Johnson. After 41 years of service in Conroe ISD, Johnson is retiring. For the final time, Johnson stood in front of the thousands in attendance to acknowledge the accomplishments of the graduating class. A few students received special recognition for the achievements during their time at Oak Ridge High. Among them was Mason Holden, Mackenzie Arent, and Madeline Hart.

Holden remarkably maintained perfect attendance from elementary school through his senior year of high school. Arent and Hart were honored as the Salutatorian and Valedictorian of the 2019 class. Hart, a member of many Honor Societies and clubs on campus, will attend Georgetown University and plans to study international politics.

In Arent's speech, she acknowledged the storied career of Principal Johnson and congratulated him on his retirement.

Johnson, "truly changed the lives of all those around him, including every single one of my peers," said Arent.

After inspiring speeches from members of their graduating class, the seniors joyfully made their way across the Pavilion stage to officially become graduates of Oak Ridge Senior High.

A replay of the ceremony is available on the CISD YouTube channel.