/

/

Noack, Commissioners Court set to lower FY 2020 Tax rate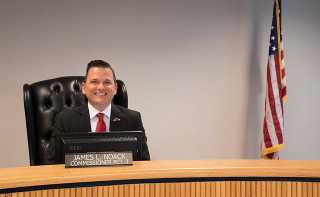 THE WOODLANDS, TX -- Precinct 3 Commissioner James Noack applauded the entire Montgomery County Commissioners Court on Thursday for verbally agreeing to adopt the effective property tax rate for Fiscal Year 2020.

By doing so, the four commissioners and county judge lowered the property tax rate by 4.11 percent to 44.75 cents per $100 valuation. The effective tax rate is the tax rate that generates the same amount of revenue in the current fiscal year as was generated by a taxing entity's adopted tax rate in the previous fiscal year from taxable property that is on the books for both tax years. It does not account for new taxable property.

The Commissioners Court managed to fund an additional 23 law enforcement officers, a district attorney investigator and a misdemeanor prosecutor – all while lowering the FY 2020 budget by about 2.3 percent from the FY 2019 adopted budget.

"I would like to thank Montgomery County Budget Officer Amanda Carter, Montgomery County Auditor Rakesh Pandey and the rest of Commissioners Court for working diligently to see that the citizens of Montgomery County receive the much-needed tax relief they deserve," Commissioner Noack said.