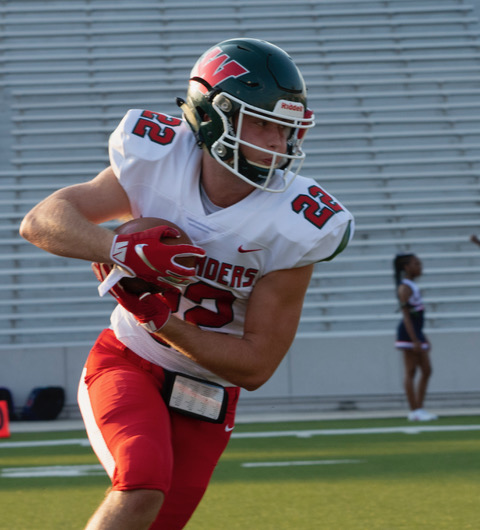 THE WOODLANDS, TX -- Peyton Janecek set the tone early as the senior quarterback took the opening kickoff 88 yards untouched for an early 7-0 lead for The Woodlands as the Highlanders took care of Lamar 31-10 Friday night.

While only completing three of nine passes for 43 yards, the two-man quarterback tandem of Janecek and Ben Mills did plenty of damage managing a run game that picked up 209 yards. The Woodlands relied on their tried and true formula of using a solid run game, limiting your turnovers and stopping the run themselves.

Friday night was vintage Highlander football.

"Defensively, at The Woodlands High School, that's what we do," said Highlander head coach Jim Rapp.

"We hang our hat on being fundamentally sound, playing hard, going to the ball and tackling. That's what the expectation was, the Lamar quarterback was really talented and I think we did a good job controlling him for the majority of the night."

Lamar quarterback Troy Tisdale was harassed all night on 9-of-20 passing for 131 yards. The talented senior was picked off three times with Highlander senior DB Abb Acuff bringing down two.

The player of the game by far was Janecek who delivered on special teams and the run game as the signal-caller consistently moved the chains on daring and explosive runs.

Next up for The Woodlands is their first district game next Friday at Moorhead Stadium versus Oak Ridge. The War Eagles had a big win Friday night over Alief Elsik 48-13 with former Highlander HC Mark Schmid on the sideline for Oak Ridge. Oak Ridge will be looking for their first ever win over The Woodlands.