/

/

Aneurysm Treatment Performed for the First Time in The Woodlands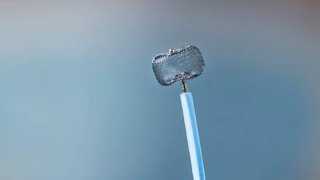 THE WOODLANDS, TX – Jeremiah Johnson, MD, and Peter Kan, MD, neurosurgeons at Baylor College of Medicine and CHI St. Luke's, have performed the first brain aneurysm treatment in North Houston using the new WEB (Woven EndoBridge) device. Using this new FDA-approved technology, physicians performed the minimally invasive endovascular treatment at CHI St. Luke's Health–The Woodlands Hospital, where Johnson is the Chief of Endovascular Neurosurgery.

The innovative approach consists of the deployment of a single soft metal WEB device through a small tube into the aneurysm to block blood flow into it, thus preventing a rupture. "The technology is designed to simplify treatment of challenging wide necked aneurysms that would normally require the insertion of multiple devices inside the vessel, such as stents and coils, or might require a major brain surgery," said Dr. Johnson. "It's a also a good option for patients who cannot be put on blood thinners, which are often required for other treatment options."

"I'm thrilled that CHI St. Luke's Health was the first one to perform this minimally-invasive procedure in North Houston, and look forward to offering this option to more patients with complex brain aneurysms in the Woodlands and surrounding areas," said Jim Parisi, president of CHI St. Luke's Health–The Woodlands Hospital. "It's an incredible alternative to open surgery that often allows patients to go home the next day."

In 2018, CHI St. Luke's Heath—Baylor St. Luke's Medical Center was the first in Texas to use the PulseRider, a neurovascular device used to treat patients with wide-neck bifurcation aneurysms. One year later, advancements have been made in the area and the hospital is again one of the first to begin using WEB.

Dr. Kan became the first neurointerventionalist to be certified to treat aneurysms using the WEB device in Texas, Louisiana, Mississippi, and Oklahoma. Dr. Johnson is a nationally recognized cerebrovascular and endovascular neurosurgeon and leads the only comprehensive stroke center in North Houston.