/

/

Montgomery County Sheriff's Office hosts awards and promotions ceremony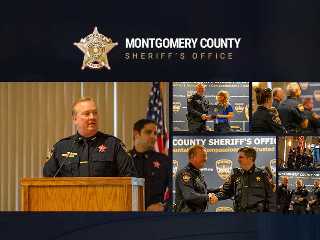 MONTGOMERY COUNTY, TX -- The Montgomery County Sheriff's Office hosted the Promotion and Awards Ceremony on October 17 at the Lone Star Convention Center. The event acknowledged those in the department with "exceptional and outstanding merits that exemplify Sheriff [Rand] Henderson's goals for the agency."

The individuals chosen to receive promotions and awards were carefully chosen and reviewed. Each of the individuals adheres to the vision of the sheriff's office to serve as a role model for public safety services and provide the most professional law enforcement services to Montgomery County.

Finance Division
Headed by Director Carol Thompson
Leslie Fields, Assistant Finance Administrator
Amber Ivey, Payroll Coordinator

Law Enforcement IT Division
Headed by Director Mari Lambrecht
Michelle Wallace, Spillman Application Administrator

Patrol East Division
Headed by Captain Melvin Franklin
Federico Cano, Sergeant
Randall Salazar, Sergeant
Chantel Ward, Detective
Nurahda Manning, Specialist
Kayla Killingsworth, Deputy
Brandon Kooi, Deputy
Lucille Saah, Deputy

Patrol West Division
Headed by Captain Mac McKelvy
Johnathan Walker, Sergeant
Magdalena Pickering, Deputy
Flora Ramirez, Crime Analyst I

The Woodlands Township Division
Headed by Captain Tim Holified
Jeromy Howze, Detective
Tony Madison, Detective
Burt Taylor, Detective
Stephanie Holman, Specialist
Eric Medina, Specialist
Coby Maddox, Deputy
Sandi Walker, Deputy

Criminal Investigative Division
Headed by Captain Dan Norris
Michael Berry Jr., Crime Investigator
Jessica Stover, Property Technician I
Donna Vallie, Administrative Assistant I

Executive Division
Headed by Captain Allison Allen
Lindsay Hall, Records Manager

Administrative Services Division
Headed by Captain Tim Cannon
Tony Russell, HR Manager

Homeland Security Division
Headed by Captain Damon Hall
Richard Ashmore, Specialist

Jail Division
Headed by Captain Andrew Eason
John Lumpkin, Sergeant
Samuel Almazan Jr., Detention Sergeant
Jason Hills, Detention Sergeant
Christina Stewart, Administrative Assistant I

Law Enforcement Services Division
Headed by Captain Jimmy Malmay
Chad Jamieson, Maintenance Manager
Mathew Veith, Maintenance Supervisor
Bryan McFarland, Radio Technician II
Milton Terry, Radio Technician II

Awards:

Professional Award
Telecommunicator Kaleigh Nunn
Sergeant Paul Hahs
Detective Brandon Bartoskewitz
Detective Charlie Sullivent
Organized Crime Unit

Compassionate Award
Sergeant Aaron Sumrall
Deputy Roman Ramos

Accountable Award
Warrants Unit

Trusted Award
Crime Lab

Life Saving Award
Deputy Nicholas Cooke
Deputy Cody McKee
Deputy Carlos Tavarez
Deputy Kelen Powell
Deputy Joe Thomason
Deputy Todd Ellis
Deputy Chris Perez
Sergeant William Sharman
Deputy Robert Layman
Deputy Shawn Yates
Detention Sergeant Crystal Badeaux
Detention Officer Andrew Folkes
Detention Officer Rex Morris
Detention Officer Lisa Smith
Detention Officer Kody Wall

Meritorious Service Award
Detective John Godden

Combat Cross
Detective Andrew Senn
Deputy Zach Winford

Woodlands Online congratulates all of the promotion and award recipients. For a photo gallery of the evening, click here.