/

/

Luther College Nordic Choir to Perform in The Woodlands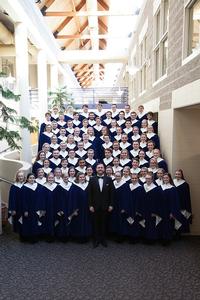 THE WOODLANDS, TX -- The Luther College Nordic Choir, one of the premier collegiate choral ensembles in the United States, will be in The Woodlands as part of their 2020 Winter Tour. Don't miss their performance at 7 p.m. Wednesday, Feb. 5, at Trinity Episcopal Church, 3901 S Panther Creek Dr.
7 p.m. Wednesday, Feb. 5, at Trinity Episcopal Church
Under the direction of Andrew Last, associate professor of music and director of choral activities, the program showcases a varied repertoire that includes Giovanni Gabrieli's 'Angelus Domini,' Paul J. Christiansen's 'I Heard a Great Voice' and excerpts from Craig Hella Johnson's 'Considering Matthew Shepard.' The concert will conclude with the traditional Nordic Choir closing piece, 'O Lord God' by Pavel Chesnokov with an invitation to alumni of the choir to join the ensemble on stage.
The performance by the 75-member ensemble is open to the public. A freewill offering will be collected. Nordic Choir is Luther's principal touring choir in a choral program that is made up of three upper-class mixed touring choirs and two first-year choirs. Acclaimed for the way it honors the Lutheran choral tradition while also featuring new and innovative choral works, Nordic Choir showcases versatility, artistry and technical mastery across many genres of music.
The choir tours annually, performing in churches of all denominations, schools and concert halls, including Lincoln Center in New York, the Kennedy Center in Washington, D.C. and the Walt Disney Concert Hall in Los Angeles. Internationally, the ensemble has toured in Germany, Italy, England, Ireland, Scandinavia, the Caribbean, Mexico, Russia and Eastern Europe. In 2021, Nordic Choir will make its first tour to South Africa.
Since 2017, Nordic Choir has been under the direction of Andrew Last. Last, a 1997 Luther alumnus, earned a master's degree in choral conducting from Northern Arizona University and a Doctor of Musical Arts in choral conducting from the University of Nebraska-Lincoln School of Music.
Luther is home to one of the largest collegiate music programs in the nation, with five choirs, three orchestras, three bands, two jazz bands and nearly 800 student musicians. Luther students participate in large ensembles, faculty-coached chamber groups, private lessons and master classes. More than 275 music majors study music theory, ear training, history, education, composition, jazz, church music and performance. For more information about Luther's music department, visit https://www.luther.edu/music/.