/

/

A Woman's World? Taking on the Automotive Industry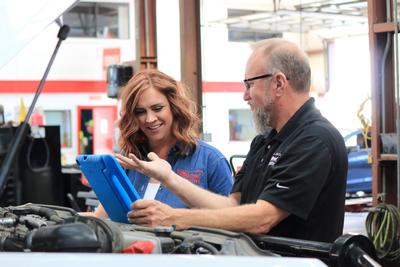 THE WOODLANDS, TX -- In an industry dominated by men, Amy Milstead has been able to succeed in the auto field, owning not one, but three car-related businesses.
President of Milstead Automotive and Milstead Collision discusses her experiences in the auto industry
Milstead Automotive and Milstead Towing and Recovery were established in 1971 by Amy's father Dick Milstead. Since then, Milstead Collision has also been added to the Milsteads' auto empire.
Amy grew up in the business with her six brothers and has been running the company since 2009 when she took over as president. Along with repairing individuals' vehicles, the company focuses on educating women and young adults on how to take care of their car.
"We hold events and classes educating women and young drivers how to change the oil, check their fluids and other basic car care needs," Amy said. "The more you know about your car, they better care you can take of it."
Being a woman in the industry, Amy has had her fair share exciting and challenging times to say the least. She has spent a lot of time volunteering in leadership positions to help make the auto and towing industry a better place for everyone. She serves as the chairman of the board for the Texas Department of License and Regulation Towing and Storage Advisory Board.
"People are, for the most part, pretty surprised when they find out I run an auto repair shop, a towing company and a collision center," Amy said. "It pushes me to prove that we are an amazing team and we have earned a spot in this space."
Amy and the whole Milstead Automotive team want to welcome women into their shop, and through education, show them they can be comfortable in the auto world.
"Some women have told me stories about how they were treated when dealing with auto repairs or towing needs," Amy said. "We always want everyone, including women, to feel comfortable when doing business with us. We always offer fair, professional and friendly service.'
According to
Catalyst.com, Women in the Automotive Industry: Quick Take
, on a global level over half of the top companies in the auto industry don't have any women as executives. In the U.S., only 9.9% of employees in the automotive repair field were women in 2019. Women in the field also reported high level of bias and sexual harassment according to statistics from 2017.
'We want women to feel supported, whether they are our customers or they are an employee here,' Amy said. 'We built the business on trust and that's what we have to offer.'
Along with Amy, Milstead Automotive has many women working in the company. RV Service Advisor Colleen Davis is one of the many women who operate in the automotive space.
'Women have a lot to bring to the table in the industry,' Amy said. 'Communication plays a huge key in being successful in this business, and I think that's one of the many strengths that women have. Over the years, we have had women as auto technicians, body technicians, service advisors and tow truck drivers. We welcome all genders at Milstead Automotive.'
About Milstead Group
Milstead Group owns Milstead Automotive, Milstead Transmission, Milstead Fleet Services, Milstead RV Repair, Milstead Towing and Milstead Collision.
Milstead Automotive is a family-owned and operated, full service automotive & collision repair facility servicing the areas of Montgomery and Harris County. The company was founded in 1971 by Dick Milstead where he offered customers honest, quality auto repair from his 2-car garage. Since that time, the business has grown into a 29-bay facility where customers can be assured that Milstead's updated technology fits today's smarter vehicles whether foreign or domestic, large or small.
Milstead also has the largest fleet of towing and recovery vehicles in Montgomery County and has updated GPS dispatching 24 hours a day 7 days a week.
Milstead Automotive offers a variety of Fleet services to keep those vehicles moving. The wide range of services span from Pick Up & Delivery, Computerized Fleet Management, and Scheduled Preventative Maintenance to Hydraulic Service/Repairs, Jump Starts Maintenance & Priority Scheduling Mechanical Repairs and 24-Hour Dispatch . . . and a whole lot more.
If a truck is stuck on the side of the road, the Milstead Automotive Mobile Fleet Services department has ASE certified technicians ready and waiting for the call. The fleet of vehicles is equipped with Truck-Mounted Compressors, Generators, Welder, Jump Start Ports. Fully Functioning Vise, Oil Dispensing/Retrieval System, Power Inverter, Tire Repair/Replacement Tools, Latest Diagnostic Tools/Software, Pneumatic Air Tools, Traffic Control Lighting, Hydraulic Hoses that are Custom Made, Common Repair Parts Stocked, ASE Certified Technician/Advisors, and CDL Drivers.
Dick Milstead's legacy continues as his daughter, Amy Milstead, and youngest son, Rick Milstead, work diligently to keep "Milstead" at the forefront of the automotive industry. Amy Milstead's achievements include Leadership Montgomery County 2003, Past Chairman of the Board for Texas Towing & Storing Association (TTSA); Vice-Chair, Texas Department of License Regulations; Towing & Storage Advisory Board and served as Chairman of the Board for The Woodlands Area Chamber of Commerce for the 2013-2014 term.
Milstead Automotive earned Best of the Woodlands, Best Car Repair 2018 and Best Collision Repair 2018 and is a member of ATRA. Milstead Automotive is also a Bosch Authorized Center and a AAA Approved Repair Facility with an A+ BBB rating. Milstead Automotive and Collision technicians are ASE and I-CAR certified and receive continued education to stay up to date with technology to ensure proper repairs.
For more information visit
www.milsteadautomotive.com
or
www.milsteadcollision.com
or follow us on Facebook
@milsteadautomotive
or Instagram
@milstead_automotive
.