/

/

The Woodlands Waterway Arts Festival is going virtual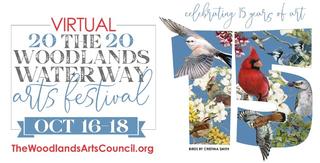 THE WOODLANDS, TX -- The Woodlands Waterway Arts Festival will be an interactive, online format and celebration designed to bring the joy of fine art and fine crafts into the homesof art lovers in our community and beyond. Get ready to shop, engage, and enjoy the festival like never before!

The festival will kick off Wednesday, October 14 with a Silent Auction featuring original art donated by festival artists, and continue through the weekend of October 17 & 18, when art from over 200 juried artists will be available for sale. Visitors will have the opportunity to engage for free with artists in their online booths from the comfort of their homes. Musical performances, hands-on children's activities, and informative artists' panels and video interviews will bring the festival up close and personal.

On Friday evening, October 16, the popular VIP Art Dash Party will be transformed into an intimate, virtual experience with an online "happy hour" and raffle for art by Featured Artist and Naturalist Christina Smith. Fun, live stream tutorials will include how to best enjoy the online festival, how to engage with artists and collect fine art, how to decorate your home with art, and more.

"In this challenging time, we made the decision to keep people safe by bringing the festival home to them," said Jenny Carattini-Wright, Executive Director of TWAC. "We have spent many hours researching how to best create an interactive format that will connect our community with our artists and sponsors and make it an experience that will be easy to navigate and fun for all. "

The festival will be FREE for all to attend!

Follow The Woodlands Waterway Arts Festival on social media during the coming months for exciting details on this new art adventure!

The Woodlands Arts Council is the producer of The Woodlands Waterway Arts Festival, an award-winning juried arts festival normally held each spring. The festival has been rescheduled for October 14 through 18 due to the COVID 19 pandemic. Like all non-profits during this challenging time, donations and sponsorships are needed to continue The Arts Council's events and community programs. To join Friends of the Arts Council and to volunteer, visit the website at www.thewoodlandsartscouncil.org.

The Woodlands Arts Council provides regional, cultural, and educational enrichment opportunities that encourage, support, and promote the performing and visual arts in our community. From the award-winning Woodlands Waterway Arts Festival to public art installations and the year-round community and educational outreach programs of Because Art Matters, the council has one primary goal….
making our community better Because Art Matters!
www.thewoodlandsartscouncil.org.