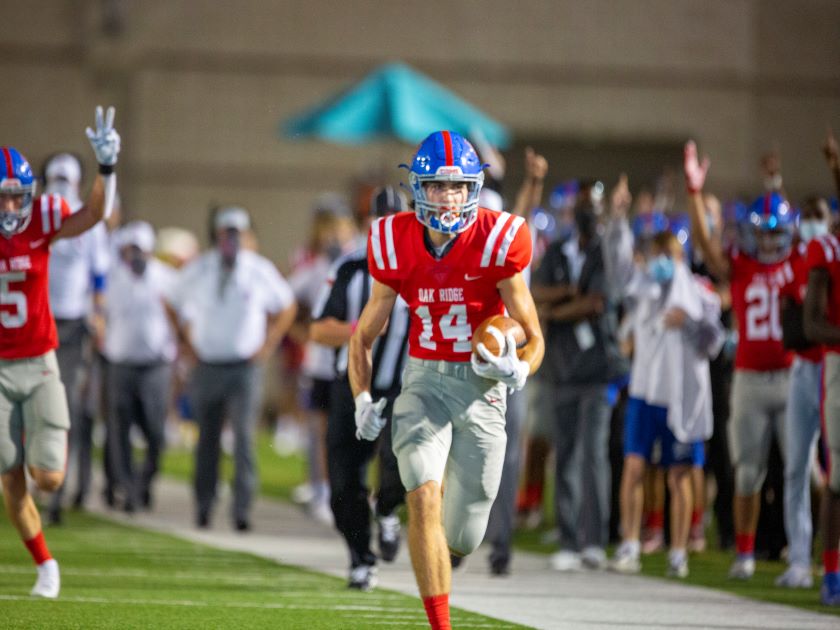 THE WOODLANDS, TX -- Thursday night was a showdown between two undefeated teams. A high-powered Humble offense met a stingy Oak Ridge defense and after the dust settled, it was the War Eagles standing tall with a 28-17 victory and a 3-0 record.


The Wildcats averaged 42 points on offense coming into the ball game, but Oak Ridge quickly made it known that points would be at a premium in this game. War Eagle DB Dexter Green
picked off
Humble QB Jeremiah Price Knott on the first drive of the game, setting up the Oak Ridge offense in Humble territory. The turnover led to the game's opening score, a
15-yard rushing touchdown
by Jahron Jonas. Jonas filled in for an injured Alton McCaskill and put on a strong performance, rushing for 97 yards and a score in the win.
The Oak Ridge defense got right back to work, forcing another punt on Humble's second possession. The rough start for the Wildcats became a nightmare after a bad snap on the punt resulted in Oak Ridge DL Jaylon Wyatt
pouncing on the loose ball
in the end zone.
After quickly falling behind 14-0, Humble began to find a way back into the game. Logan Hay hauled in a 33-yard TD pass to put the Wildcats on the board for the first time. Humble had an opportunity to tie the game late in the first quarter, but the War Eagles defense was able to hold Humble to a field goal and take a 14-10 lead into the second quarter.
In the second quarter, big plays on both sides of the football allowed Oak Ridge to create more breathing room. WR Landon Lightsey reenergized the home side of the stadium by turning a now-screen into a
39-yard touchdown
. The defense
shut the door
on two Humble
fourth-down attempts
in the quarter, leading to Lightsey's second TD catch of the night. QB Nick Osborne hit Lightsey across the middle of the field for a
33-yard score
to push their lead to 18. Lightsey led the offense with 127 yards and two scores in the win.
Outside of a late score in the third quarter, the War Eagles continued to make things difficult for Humble's offense. DB's
Sammy Keith
and Jaquale Harrison picked off Price Knott in the second half to bring the forced turnover total to three on the night.
Oak Ridge improves to 3-0 for the first time in three years and will look to make it 4-0 when they host the Montgomery Bears next Thursday.