HS Football: College Park stays undefeated in district with close win over Conroe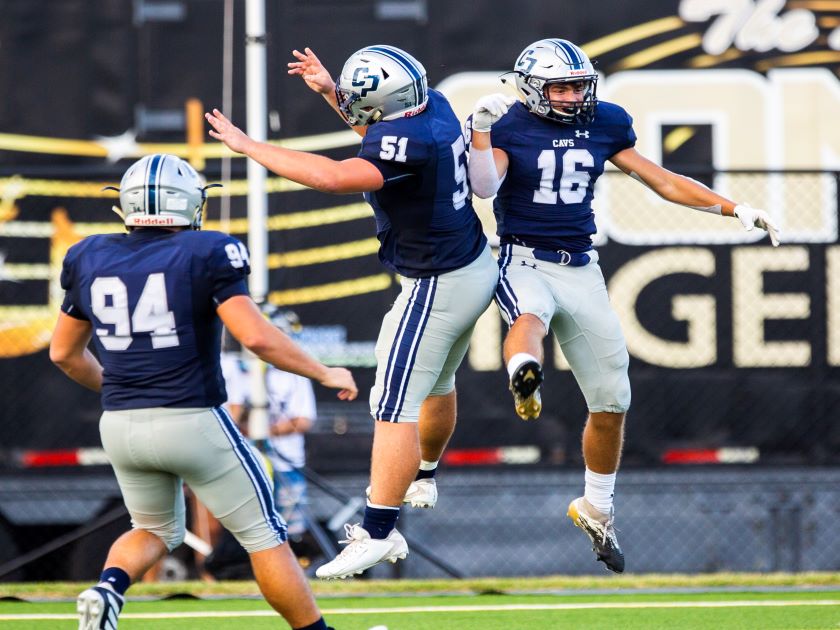 THE WOODLANDS, TX -- Saturday's matchup between Conroe and College Park was a game with District 13-6A playoff implications. Both teams played like they understood the importance of a win and after three second-half lead changes, the College Park Cavaliers came away with a 28-24 win over the Conroe Tigers.


Conroe has struggled in district play this season, but knowing that they're running out of time to find wins, the Tigers came out hot to start Saturday's game. Conroe QB Jalen Williams and WR Joshua Denman got explosive early to flip the field and put Conroe in the red zone. The Tigers capitalized on a great first drive with a
14-yard touchdown scramble
by Williams to open the scoring.
College Park came up empty on their first possession, but the Cavaliers defense came up with a fourth-down stop in their own territory to give the ball right back to the CP offense. A
tough catch
by WR Holden Rook helped set up the first Cavaliers touchdown of the day. QB Ty Buckmon found TE Cody Mladenka near the goal line on an over route, and the big target was able to
reach for the pylon
on the 21-yard TD pass.
The second quarter started off with red-zone turnovers by both teams to keep the game tied at 7. Conroe's double pass was tipped at the goal line and
picked off
by DB Curt Evangelister. Then, Tigers DB Layne O'Dell denied Mladenka his second score of the game with an
interception in the end zone
.
Conroe hit another gear late in the first half and looked ready to blow the doors off of College Park. A 31-yard
field goal
from Josue Santos and a
32-yard TD pass
from Williams to Khylige Payne put the Tigers up 17-7 with under two minutes to go in the half. Then, Conroe forced a fumble in CP territory, giving themselves an extra possession and a chance to go up three scores late in the quarter.
Conroe couldn't find the end zone and had to settle for a field goal attempt with four seconds remaining. One kick away from falling behind 13 points, College Park DBs Curt Evangelister and Marcus Scott II combined to make a play that not only changed the game but could potentially alter the course of both team's seasons. Evangelister swatted down Santos' kick and Scott II scooped the loose ball and returned it for a
70-yard touchdown
as the first half expired.
College Park came out of the locker room with all the momentum, and on their first play of the second half, Holden Rook torched the Tigers defense on a
68-yard TD run
to give the Cavs a 21-17 lead.
Midway through the third quarter, Conroe retook the lead on Jalen Williams' second TD pass of the game. Williams connected with WR Jordan Thomas for the
21-yard score
.
College Park showed off their toughness and resiliency on a 12-play, 70-yard drive that WR Alex Brigman finished off with a
20-yard TD run
to take a 28-24 lead in the final seconds of the third quarter. The Cavaliers made a statement in the fourth quarter with a long drive that killed over five minutes of clock to keep the ball out of Conroe's hands and
secured the win
.
Conroe came up just short despite a big day from their playmakers. QB Jalen Williams racked up 395 yards and three TDs. His leading receivers, Louis Williams III and Joshua Denman recorded 170 yards and 90 yards respectively. On defense, LB Roman Hamilton led with 10 tackles. DB Layne O'Dell had nine tackles to go along with his interception.
College Park's win was fueled by 108 yards and a TD by WR Holden Rook, and 116 yards from RB Dylon DeAngelo. Defensively, DB Joseph Golden and LB Harrison Helton led with six tackles. DB Curt Evangelister added four tackles to his interception and blocked kick.
At 3-0 in District 13-6A, College Park has clinched a playoff spot for the first time since 2015. The Cavaliers are currently tied for first place with The Woodlands and will face Oak Ridge and The Woodlands in their final two games.
Conroe desperately needed a win to improve their chances of making the playoffs. The loss drops the Tigers to 0-3 in the district and they will likely need to win their next two games against The Woodlands and Willis to have a shot at the top four.