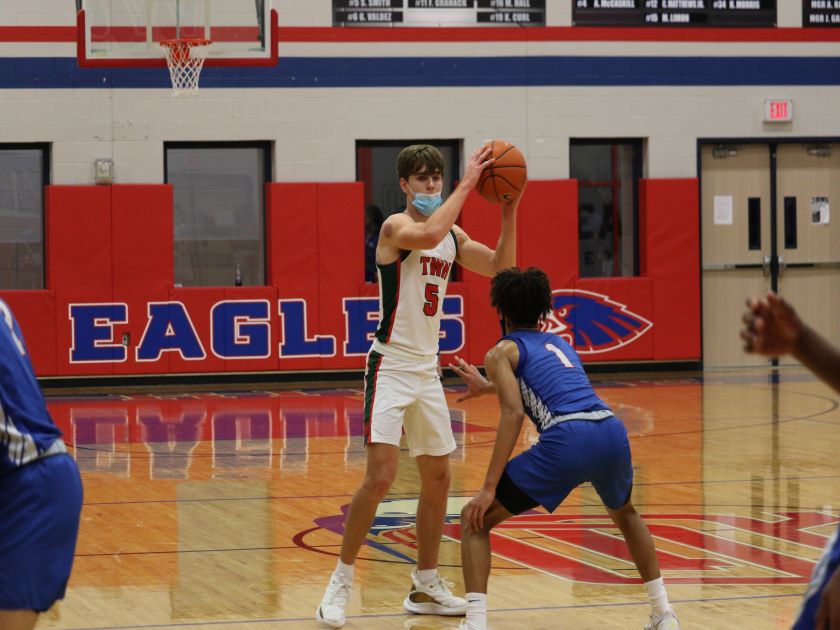 THE WOODLANDS, TX --

Boys Basketball

The Woodlands 81, Oak Ridge 41

The last time these two teams met, it was a three-point game. This time around, The Woodlands put this game away just about as soon as it started. A fast-break dunk by Brock Luechtefeld set the tone and sparked a 15-point run in the first quarter and the Highlanders never looked back. The dominant showing gives The Woodlands the 2-1 win in the season series versus Oak Ridge and clinches a playoff spot in District 13-6A.

The Woodlands had four players hit double digits in the win. Justin Sheldon was the game's leading scorer with 18 points and the WOL Sports Player of the Game. Brock Luechtefeld finished with 16, Kylan Williams had 12, and Isaiah Brown added 10.

For Oak Ridge, Geriah Pruitt led the way with nine points, and Bryce Bass and AJ Osborne each had eight.


The Woodlands (17-3 / 8-6) Next Game: vs Grand Oaks - 2/2
Oak Ridge (10-13 / 4-7) Next Game: @ Willis - 2/2
Grand Oaks 54, Conroe 52
The Grizzlies come away with an important win over the Tigers. Grand Oaks and Conroe are now tied for third place at 5-6, but Grand Oaks will hold the tiebreaker after winning the season series 2-1.
Jordan Reece led the Grizzlies to the win with 15 points, followed by 14 from Eli Augustine.
Grand Oaks (11-11 / 5-6) Next Game: @ The Woodlands - 2/2
Conroe (8-12 / 5-6) Next Game: @ College Park - 2/2
College Park 72, Willis 32
The Cavaliers cruised to their 13th-straight win and completed the season sweep of the Wildkats. Four Cavs hit double digits with Jack Mathias leading the way with 16 points. Marvin Dock and Ty Buckmon each scored 15, and Drew Calderon added 12.
College Park (20-3 / 11-0) Next Game: vs Conroe - 2/2
Willis (2-21 / 0-11) Next Game: vs Oak Ridge - 2/2
Girls Basketball

Conroe 46, Grand Oaks 44
It was another close game between these two schools, but this time Conroe was on the winning side to split the season series. It was a win that knocks Grand Oaks back into a tie for second place with College Park and moves Conroe (currently 4th) just one game back.
13 points and seven rebounds from Sarah Sowell led the Tigers to the win. Makayla Phoenix followed with nine and Daniela Galindo had eight. Galindo also drew a charge late in the game to help secure the win.
Conroe (10-7 / 5-4) Next Game: vs College Park - 2/2
Grand Oaks (15-6 / 6-3) Next Game: vs The Woodlands - 2/2
Oak Ridge 72, The Woodlands 51
18 points from Nikki Petrakovitz led Oak Ridge to their 7th-straight win and a sweep of the Highlanders. Raniyah Lewis added 15 and Taylor Jones and Malade Hollis finished with 13 and 12 respectively.
Oak Ridge (22-3 / 8-1) Next Game: vs Willis - 2/2
The Woodlands (7-17 / 2-7) Next Game: @ Grand Oaks - 2/2
College Park 51, Willis 23
After the sweep of Willis, the Cavs are back into a tie with Grand Oaks for second place heading into the final game of the season. Ali Diop had a double-double with 18 points and 13 rebounds. Ara Odelowo went for 12 points, five boards, and six steals.
College Park (16-8 / 6-3) Next Game: @ Conroe - 2/2
Willis (3-20 / 0-9) Next Game: @ Oak Ridge - 2/2