HS Girls Soccer Playoffs: The Woodlands wins a thriller in PKs, advances to Regional Final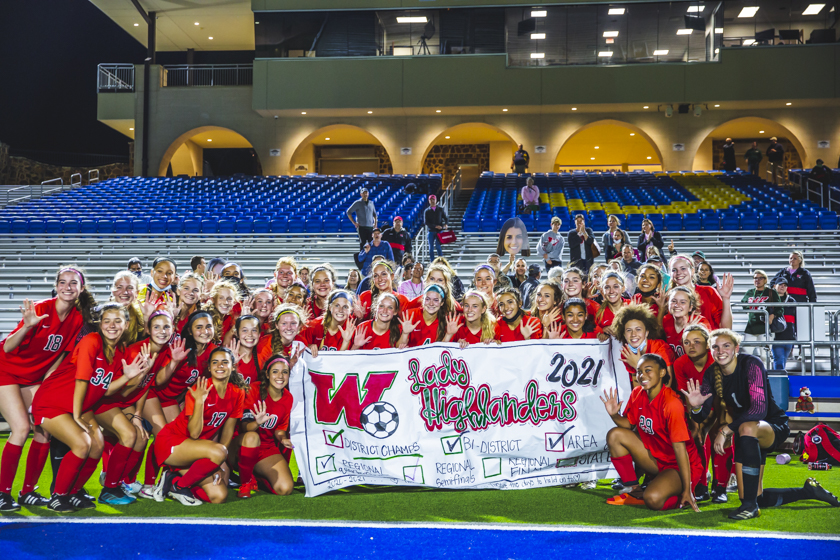 JACKSONVILLE, TX -- In what was certainly the best game in Round Four of the UIL Girls 6A playoffs, The Woodlands Highlanders overcame rare adversity to defeat the Mansfield Tigers 2-2 (7-6 in PKs) to advance to the elite eight.

The Highlanders found themselves in an unusual situation when Mansfield scored the game's first goal in the 24th minute. The Tigers controlled the game for most of the first half and the goal broke a month-long shutout streak. It was also the first time the Highlanders trailed in a game since January.

Despite being in unfamiliar territory, the Highlanders' playmakers stepped up and made game-changing plays. In the 37th minute, Marley Krach climbed the ladder to score the equalizing goal with a strong header.

The teams went to halftime tied at one, but in the second half, it seemed the Highlanders finally flipped the switch and became more aggressive in the attacking phase.

The hard work, and a bit of luck, earned a goal in the 53rd minute. Courtney Koehler sent an inswinging ball into the box that went over the Mansfield keeper's outstretched arm but pinged off the post. However, as the keeper scrambled to recover the loose ball, it deflected off of her body and into the net to give The Woodlands a 2-1 lead.

The Woodlands' first lead of the night only lasted seven minutes as Mansfield answered to tie the game with a nice long ball over the top to their striker who won the 1v1 with the keeper.

Both teams had chances to find a winner in the final 20 minutes, but extra time would be needed. Neither team could find a goal in the two 10-minute halves, sending it to penalty kicks.

Koehler, Krach, Samone Knight, Kennedy Floyd, Ellen Persson, Gracie Britten all scored for The Woodlands before the first miss. Mansfield, who kept pace with the Highlanders had an opportunity to win, but the shot was sent wide of the right post.

Janey Kauppinen scored to put The Woodlands back in front, then Highlanders keeper, Bella Hollenbach, stonewalled the Tigers' shot to win the game.

Hollenbach and the Highlanders will face Lake Ridge in the 6A Region II Final.