/

/

Legendary Singer, Songwriter Gary Morris at Dosey Doe July 16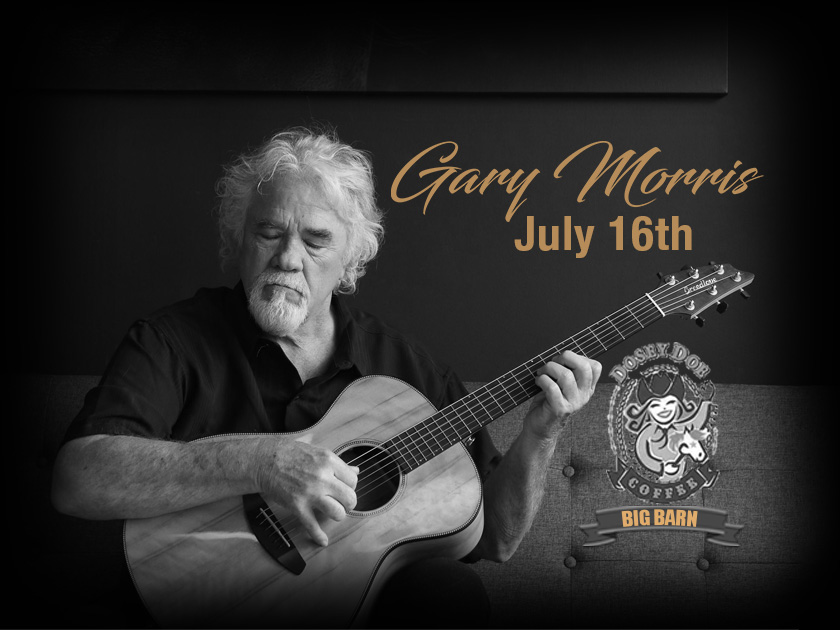 THE WOODLANDS, TX - We sat down with singer and songwriter Gary Morris to talk about his upcoming concert on July 16 at Dosey Doe Big Barn as well as ask him questions about his background and music career. His work has spanned several decades and many of his songs have hit number one on the record charts. His music is known to some as country, but he also describes it as more lyrical and melodic. He has ventured into Broadway and TV and is an avid sportsman. The story of how he broke into the music business is really unique and his ability to connect to his audiences through his music is remarkable. His talent has no boundaries and his life as a song writer, singer, actor and sportsman is a testament to his love of music, people and nature.
'Gary Morris is known world-wide for his vocal mastery'
"Gary Morris is known world-wide for his vocal mastery, able to hold audiences mesmerized and overwhelmed by the pure beauty and inspiration of his voice."
Gary Morris: The Early Years
Gary Morris was born in 1948 in Fort Worth, Texas and was raised on the northeast side of town. He participated in four different sports at Richland High School and eventually played college football in West Texas on scholarship. One of his first experiences performing in public was when he won a singing contest in grade school with his sister playing the piano and him singing the song "This Ole House". This Ole House was a 1954 song made popular by Rosemary Clooney. Gary also sang at his church when he was around 5 years old. His parents played a wide assortment of music in their home including songs ranging from George Beverly Shea to Hank Williams. He loved music and purchased his first guitar at the age of 16. When asked about which musical groups and people impacted his life the most, he said that he really liked the music of The Beatles. They were a huge influence. His favorite song by The Beatles is "Yesterday". He also loves country music and considers George Jones's song "He Stopped Loving Her Today" as George's best work.
While attending college in West Texas, Gary started a singing trio called "Yesterday's Children" and played for several years with that group. Gary mentioned that he was on the fence regarding whether he should continue with professional football or focus on a music career. Football was very exciting and he loved playing the game, but it took such a toll on his body. During the first couple of years of college, Gary broke 14 bones. He wasn't sure if he wanted to continue putting his body through that type of stress and came to the conclusion that he would break less bones pursuing music. He ended up going to Colorado for the summer and sang in another trio at a place called Taylor's Supper Club. His trio was called 'Taylor's Cowboys'. It paid well and he enjoyed the experience of performing for people. He eventually moved back to Texas and decided to continue following a trail that lead to music and writing songs.
Click here to purchase tickets to the July 16 Gary Morris concert
Gary Morris' Big Music Break
We asked Gary what lead to his big break in the music business. This is the part that was truly interesting. Gary told us that his big break came about through his political efforts helping a presidential campaign. Back in 1976 when Jimmy Carter was running for president, Lloyd Bentsen, a freshman senator from Texas was also running and didn't want Carter on the ballot. Gary didn't like that and reached out to the Carter campaign to see how he could help. Carter tapped Gary to sing at 180 of his events. When Carter won the presidency, Gary was asked to sing at the inauguration. Carter referred to Gary Morris as his favorite singer at the event. In the audience at the inauguration was a country music producer from Nashville named Norro Wilson. Some time later in 1980, Gary visited Norro's label, Warner Bros. to submit a demo tape. They recognized him from the presidential inauguration and Norro ended up signing Gary that same day.
Gary would begin a journey of writing and singing some of the most memorable songs at the time.
His first successful album was titled "Gary Morris" and his first successful single on that album was "Headed for a Heartache".
It rose to number 8 on the country charts. Gary would continue to experience a great deal of success in the coming years with 5 number 1 hits, many top ten songs and collaborations with other artists.
His first number 1 hit was his single titled "Baby Bye Bye" in 1985.
Gary's song
"Wind Beneath My Wings"
was also a huge success. It was featured in the movie "Beaches" and sung by Bette Midler.
Songs that struck a cord in the hearts of music lovers included "Second Hand Heart", "Another World" (with Crystal Gayle), "I'll Never Stop Loving You", "The Love She Found In Me", "Why Lady Why", "Velvet Chains" and "I'm In Church".
In addition to his albums, he ventured into other areas of music and even succeeded in an acting career. At the suggestion of his label, he auditioned for a production of Puccini's opera
La Boheme
. He ended up singing opposite Linda Ronstadt. He also was cast as Jean Valjean in the Broadway production of
Les Misérables
. What is notable about his performance is that he was actually the first American ever cast as Jean Valjean on Broadway. He received great reviews. What is interesting as well is that when he was cast for the part, he was only given 3 weeks notice to fill the lead part in Broadway's hottest production. Gary Morris is a guy that can acclimate to anything and excel in situations that would normally stall most people. But he didn't stop there. He also recorded a complete, full symphonic version of Les Misérables. This was a Grammy Award winning recording. In 1992, Gary played in the TV series,
Designing Women
as Julia's surgeon. He also played a blind country music singer, Wayne Masterson in the TV series,
The Colbys
. Gary is an avid sportsman. He developed a love for hunting and fishing at the age of 3. He loves duck hunting, fly fishing and has hunted on all seven continents. Gary hosted and produced a TV show from 1991 to 1996 on The Nashville Network called
North American Sportsman
, which ran for five seasons and featured many celebrity guests including Bryant Gumbel and Troy Aikman.
Gary has played for hundreds of thousands of people from around the world and has had the privilege of singing for several US Presidents, including Jimmy Carter, Gerald Ford, Ronald Reagan, George H.W. Bush, Bill Clinton, George W. Bush and Barack Obama.
What to expect at the concert on July 16
Gary said that he will be playing
"the best of the old and the best of the new".
He will play a mixture of his favorite songs. Gary Morris is also not a stranger at playing in The Woodlands. He has performed at Dosey Doe Big Barn several times and says that the acoustics at Dosey Doe are great and it is a wonderful venue. He will have CDs to purchase at the event and will also be available to meet with guests after the concert. So be prepared to have fun, hear some of the best singing in the country and get ready for an experience that not only will bring back memories of the songs you remember from years past, but he will also perform songs that you might not have ever heard before.
By the way, we asked Gary what his favorite song is and he told us his favorite song he has recorded is
"I'm in Church"
. Morris compares the tranquility and spirituality he experiences being out in nature to the feeling of being in church. This is the inspiration for the song, featured on his latest album "Sense of Pride." The worshipful lyrics take the listener to the heart and soul of this authentic artist and outdoorsman.
About Dosey Doe Big Barn
This 165 year old historical structure has been saved for its current purpose. Originally built as a tobacco barn in Kentucky, the 300-600 year old growth oak and birch massive beams are the foundation not only for a beautiful room for also for great acoustics. It is a place where memories are made. No need to run from restaurant to music hall, as here you have it all.
Their entrees are 'cooked from scratch' based on the season, special offerings of purveyors with the type of music of the night in mind. Their task is to offer a meal that would be the reason in and of itself to visit Dosey Doe. The presentation is note worthy and the creations are featured in several Cook Books from Canada to Texas.
Nationally recognized artists from around the world dominate the calendar here: from Jerry Jeff Walker to The Rippingtons, Dave Mason to Lee Roy Parnell, Clint Black to Bela Fleck, Leon Russell to Spyro Gyra, Steve Wariner to Hayes Carll, Roger Creager to Mel Tillis, Manhattan Transfer to Gallagher... up very close and personal. Most artists will stay to have photos taken and give autographs after the show. Many very rarely do it anywhere but here and almost everyone says it is one of their favorite rooms to play.
'I have played them all, big and small, but I have never played a place that sounds as good as Dosey Doe!' - Gary P Nunn

'I will gladly tell anyone that Carnegie Hall cannot compete with Dosey Doe,' - Michael Martin Murphy

'One of my all time top 5 places to have played,' - Marcia Ball
Come early and enjoy the room. Filled with Americana artifacts from the late 1800s to the early 1900s, there is plenty to see. Your hands touching the hand-hewn 2000lb barn beams, your eyes filled with art, artifacts, signage from a simpler time, your taste buds excited from salad to dessert, and music so pure - up close and personal... all designed to 'Take You Away' and create a memory you will keep.
The BIG BARN is home to great causes such as RETT and SWING FOR A CURE; benefits where proceeds go to help children's illnesses. The BIG BARN is available for large wedding receptions, corporate functions, birthdays and anniversary parties.
Click here to purchase tickets to the July 16 Gary Morris concert
Click here to view Gary Morris' website