/

/

Montgomery County Food Bank to Benefit from Howard Hughes Corporation Fall Giving Drive
Montgomery County Food Bank to Benefit from Howard Hughes Corporation Fall Giving Drive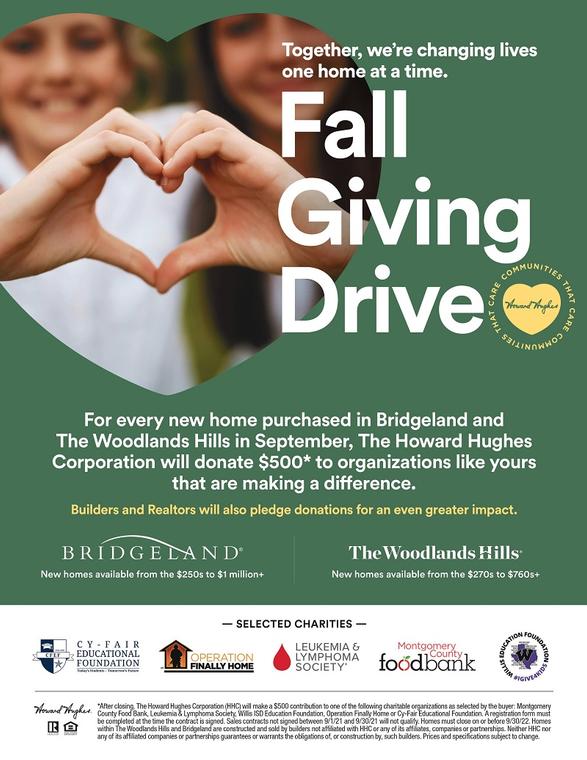 THE WOODLANDS, TX -- Montgomery County Food Bank (MCFB) is pleased to announce they have been selected to benefit from The Howard Hughes Corporation's Fall Giving Drive. For each new home sold in the master-planned communities of Bridgeland and The Woodlands Hills during the month of September, Howard Hughes will donate $500 to one of five local charities on the behalf of the buyer. The Fall Giving Drive will allow homebuyers to make a positive impact in their community through the purchase of a new home.

The mission of MCFB is to unite the community to fight hunger. Montgomery County has experienced an increased need for food assistance due to the economic effects of the ongoing pandemic. MCFB continues to tangibly address the need and relies on the support of community partners to accomplish the mission. At MCFB, every $1 donated provides 5 meals. Every home purchased during the Fall Giving Drive and designated to MCFB will provide an astounding 2,500 meals. These meals will be provided to children, families, and seniors who lack access to wholesome, nourishing food through a network of 70+ partner agencies, local school districts and community partners. Through partnerships with local retailers and wholesalers, MCFB receives and purposefully distributes donated and surplus food. True to its mission, MCFB works alongside volunteers, corporate and community partners, and nonprofit agencies to build a community where everyone has access to sufficient, nutritious food.

To learn more about Montgomery County Food Bank's programs, please visit mcfoodbank.org or contact the food bank at info@mcfoodbank.org or 936.271.8800.

Montgomery County Food Bank is a 501(c)(3) nonprofit organization, member of Feeding Texas and Feeding America Networks, and a partner of Houston Food Bank.