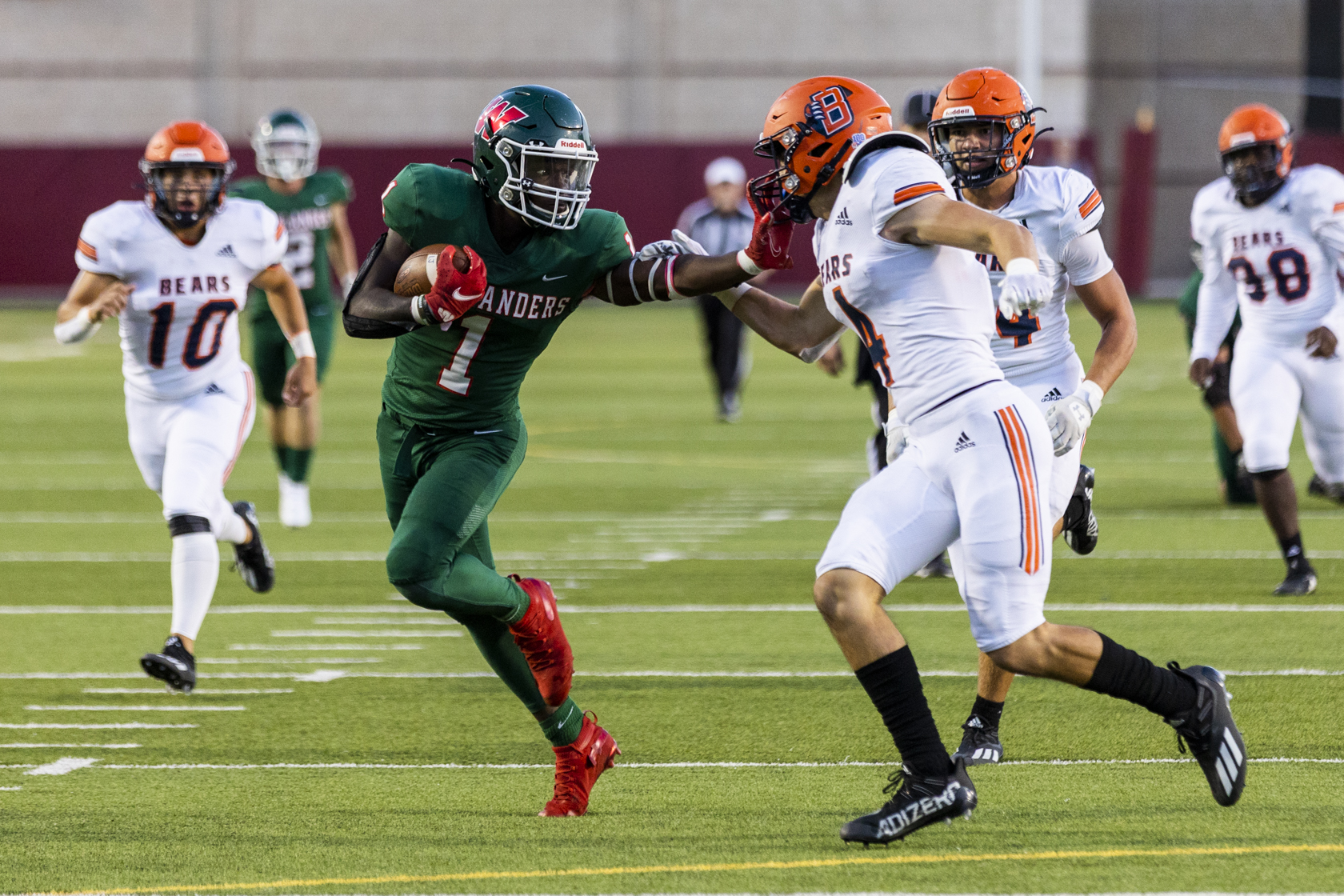 THE WOODLANDS – The Highlanders have a stacked schedule before district even starts. Tonight, was the powerhouse out of Cypress, Texas, Bridgeland High School and their nationally ranked quarterback, Conner Weigman. The Woodlands is not afraid of a little competition and is known for huge plays and comebacks when they are down.

Woodlands High School Head Coach Jim Rapp after the Game:


Trouble Viewing Video - Click Here

The first half was electrifying with both teams scoring within minutes and showing what they were here to do. Bridgeland came out firing with back-to-back touchdowns and a field goal holding the Highlanders to just 7 with seconds left in the 1st quarter. Again the 2 teams showcased their throwing abilities and flexed their offense but this time the Highlanders were able to score making it a 1 touchdown game going into the half.
Head Coach Rapp of the Woodlands High School Highlanders, reflected on past weeks saying, "We are a better team this week that we were last week and the week before that."
Coming into the second half the mood had changed between the football team. Both teams once again showed very well offensive dominance and threw some huge receptions over the center for the receivers with pin point accuracy.
"I thought we really did some good things in the second half. We rushed the pass really well in the second half and put a lot of pressure on him [Conner Weigman].' Said Coach Rapp about the second half of the game.
He continued "we just gotta be able to finish drives."
This was the only downfall to the Highlanders against the Bridgeland Bears. Someone who is nationally ranked will spot those mistakes and take advantage. The Woodlands did a great job containing the powerful quarterback and forcing them to make mistakes. Unfortunately there were some questionable calls, not in favor of the Woodlands but they fought hard through the officiating.
We caught up with the Woodlands running back JoBarre Reed for some comments on the game. With a big smile on his face he said, "It's just the beginning! We're not done. We're coming!"

Trouble Viewing Video - Click Here

He cut through Bridgeland's defensive line many times and racked up huge rushing yards. When asked how that felt against such a highly ranked team he said, "We're dogs! That's what a Highlander is, a dog…a fighter."
The Woodlands is set to face another powerhouse once again next week. With 9 state championships under their belt, Katy High School will be a force the Highlanders will have to stop. They will be on the road but family and fans will show their support to root on their team.
The Woodlands High School vs Katy High School
Where: Rhodes Stadium
When: Sept. 17 | 7 PM