/

/

St. Luke's Health -The Woodlands Hospital Adopts Automated Notification System that Helps Identify Patients at Risk and Reduce Response Times
St. Luke's Health -The Woodlands Hospital Adopts Automated Notification System that Helps Identify Patients at Risk and Reduce Response Times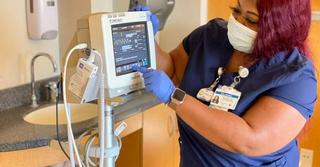 THE WOODLANDS, TX -- St. Luke's Health-The Woodlands Hospital is the first provider in Greater Houston to adopt a new automated, early-warning system to help caregivers and rapid response teams to recognize early signs of deterioration in patients and respond faster – in time to make a difference.

The Philips IntelliVue Guardian Solution (IGS) with automated vital signs measurements and early warning scoring is a customizable patient monitoring system combining software, clinical decision support algorithms, mobile connectivity and clinical transformation services. With this solution, each vital sign is assigned a score that indicates if the patient is stable, improving or deteriorating. The system helps caregivers identify subtle indicators of deterioration, allowing them to make critical interventions that result in reduced ICU transfers and readmission, adverse events and length of stay.

"We looked for tools that we could utilize to help make our systems more efficient and help ensure the best outcomes for our patients," said Larkin Virden, director of medical surgery at The Woodlands Hospital. "The Guardian system allows us to more quickly measure a patient's vital signs and monitor for abnormalities, where previously we had to document them in the system individually."

Research has shown that 66 percent of cardiac arrest patients can show signs and symptoms up to six hours beforehand, but physicians are notified in advance only 25 percent of the time. The IGS' early warning scoring (EWS) application automatically re-checks those warning signs, using Philips reassurance measurements, to determine if a notification needs to be sent to the appropriate caregivers. By reducing the need for manual record keeping and associated manual scoring calculations, automated EWS can help identify patients at risk and reduce response times.

The automated notifications system helps clinicians identify critical events before they happen. A study using Philips IntelliVue Guardian Software examined the effect on clinical outcomes of deploying an electronic automated advisory vital signs monitoring and notification system, which relayed abnormal vital signs to a rapid response team (RRT). According to the Philips study, the use of an automated EWS system led to a significant increase in notifications, which triggered interventions such as fluid boluses, bronchodilators, and antibiotics. Moreover, implementation was associated with a significant decrease in cardiac arrests, overall mortality in the sicker of the two clinical areas, the severity of illness in those patients admitted to ICU, and decreased ventilation time and mortality in such patients by helping to reduce the need.

For more information about the IntelliVue Guardian Solution, visit Philips.com.

This is a customer experience. Other experiences may vary. Results are specific to the institution where they were obtained and may not reflect the results achievable at other institutions.