/

/

Building Dedicated for Pallet Production at New Danville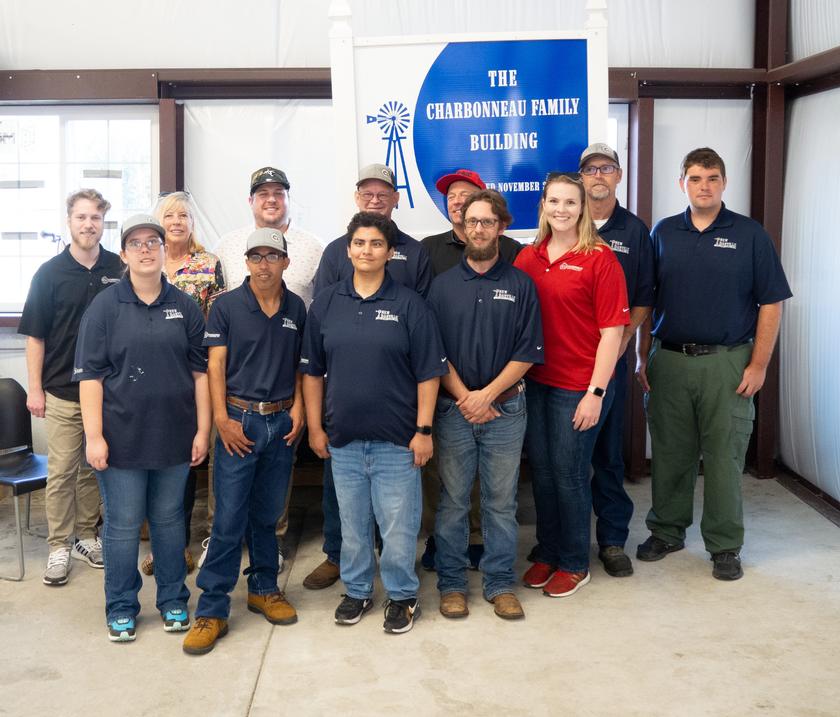 WILLIS, TX -- A few years ago, Lynne Charbonneau approached Eva Aguirre, the president and CEO of New Danville, with an idea: train, empower and employ New Danville clients to produce pallets for Charbonneau Industries. As a sign of how well that idea has taken root, New Danville recently hosted a ribbon cutting of the new Charbonneau Family Building where members of the pallet team do their magic in the Pallets to Partners program.

To get the program started, Charbonneau Industries (Ci) donated tools, wood, materials and a forklift, as well as created the forms used to produce the pallets and contributed funds for the wages to pay workers. A pallet team of Wranglers (clients) was formed and operated under the guidance of recently retired direct support professional Sherry Franklin. As the need warranted, the team expanded. Thousands of pallets have been created since the program's inception.

Eva said, "We cannot express sufficiently our appreciation for everything that the Charbonneau family has done for New Danville and the Wranglers. We look forward to installing the sign that was unveiled at our ribbon-cutting event. The Charbonneau Family Building is our first named building and we hope it inspires others to follow the great example of support that the Charbonneau family exhibits. The ripple effect of their support will continue for many years to come."

Lynne, CEO of Charbonneau Industries, could not stop smiling while making comments at the event. "I am so pleased…I am honored…by this opportunity to serve. All of us in the family and at the company love being able to help New Danville. I first learned of the Wranglers' skills when I saw at a Tea on the Lawn event the great birdhouses they created in woodshop. My husband (Steve) saw an opportunity in those woodworking skills in a relationship that would be mutually beneficial." (Tea on the Lawn is now called Spring Thing. It will be held April 22.)

Ci is a Houston-based, woman-owned and operated supplier of pipeline products and services.

The pallet team now consists of six Wranglers who work part-time. Seen as a plum assignment by many, there are several Wranglers waiting for continued expansion of the team so they can join.

The success of Pallets to Partners has served as impetus and encouragement for New Danville's new vision for helping prepare adults with intellectual and developmental disabilities and employers for appropriate employment. Eva said, "We envision our Job Readiness and Support Program will become an important resource to our clients and to area businesses."

New Danville is a nonprofit rural community in Willis for adults with intellectual and developmental disabilities. For more information, call 936-344-6200.