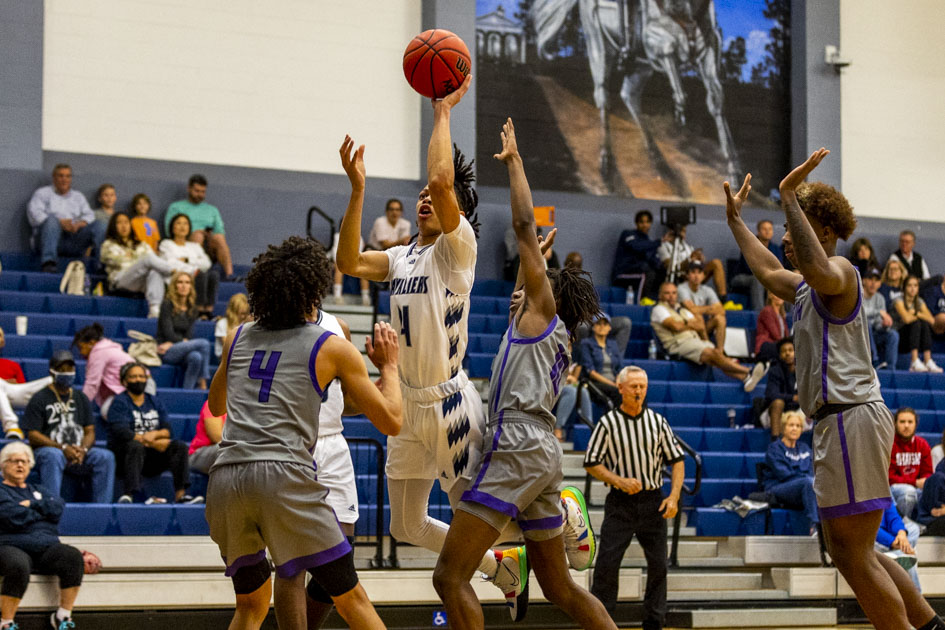 THE WOODLANDS, TX -- College Park Cavaliers had a non-district match against the undefeated Lufkin Panthers at home. Although this was to be the Cavaliers 7th game the Panthers had only played only one game where they won on a narrow margin. The College Park pre-district season is full of tournaments throughout the surrounding area which prepares them for the tough district season.


Ready to watch some holiday basketball. College Park Cavaliers take on the Lufkin Panthers.@cp_hoops #txhsbb @Lufkin_Hoops pic.twitter.com/jsKoRxD7dl

— Woodlands Online Sports (@WOLsports) November 23, 2021
Starting off the 1st quarter Lufkin drained a 3-pointer giving them a dominate lead but also would set the tone for the rest of the game. Although the tone was set in favor of the Panthers, the Cavaliers came out swinging, going point for point with the undefeated team. Senior Nate Murphy controlled the pace of the first quarter, by slowing down the Lufkin momentum or pressing the momentum to gain a lead on the Panthers.
The 2nd quarter was a bit different in that College Park slowed way down and with the pressure from Lufkin's defense created a lot of unforced errors. Whether it was getting stopped in the paint or even over throwing passes, College Park struggled to get the ball in the basket. It showed that Lufkin struggled to play with each other while College Park was able to move the ball on each possession. At the half Lufkin was up 34 to 25.
Lufkin leads at the end of the 2nd.

Halftime
College Park (@cp_hoops) - 25
Lufkin (@Lufkin_Hoops) - 34 pic.twitter.com/pgLVZwxM5P

— Woodlands Online Sports (@WOLsports) November 23, 2021
Junior Center Brandon Walker with the Panthers took off in the 3rd quarter, using his mass to force points from the paint. The Panther's defense also stopped College Park from making any plays to get the ball in the basket. Many unforced errors created a lot of turnovers which hurt the Cavaliers and gave the Panthers more opportunities at the other end of the court. College Park was only able to score six in the 3rd to Lufkin's thirteen.
Going into the 4th quarter, College Park switched up their offense and started to get a rhythm going but it was a little too late. Already down by sixteen College Park it was an uphill battle to come back especially when Lufkin was on fire. As they forced many points from the paint, the panthers also shut down the Cavaliers passing lanes and once again forced turnovers which gave them more points on the board. The final minutes of the game, College Park tried their luck but putting up some 3s to come back but it was short lived as the clock counted down. College Park falls to Lufkin 63 – 47. Senior guard Darel Reece finishes the game with 11 points.
Lufkin takes the win.

Final
College Park (@cp_hoops) - 47
Lufkin (@Lufkin_Hoops) - 63 pic.twitter.com/wNZ2Skn2t6

— Woodlands Online Sports (@WOLsports) November 23, 2021