/

/

December 2 Is First Annual "Mr. Baker Day" To Benefit Local Kids in Honor of Donald Baker of The Candy House
December 2 Is First Annual "Mr. Baker Day" To Benefit Local Kids in Honor of Donald Baker of The Candy House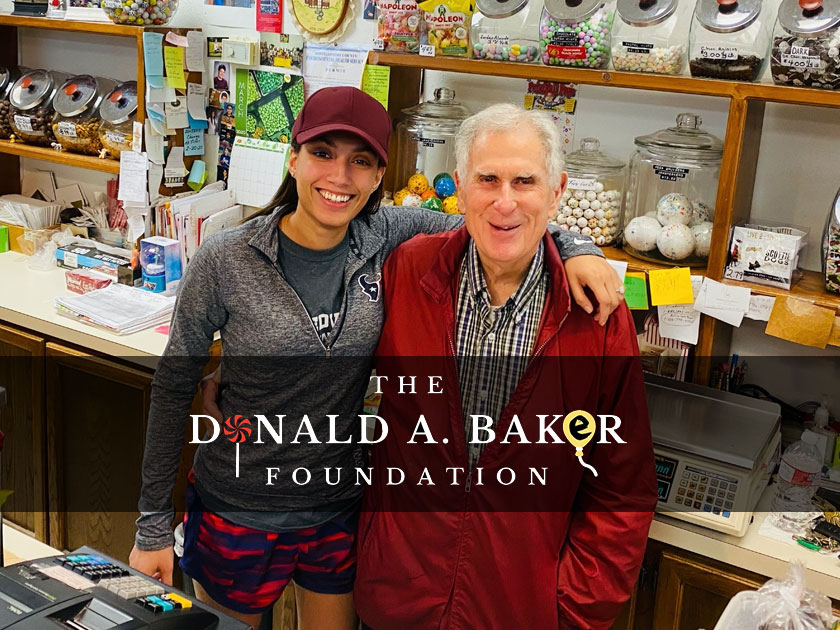 THE WOODLANDS, TX -- For over 25 years, Donald Baker and his wife owned and operated The Candy House located on 27160 Glen Loch Drive in The Woodlands. Visiting the store became a tradition for hundreds of families in the area and Mr. Baker made it a point to greet each and every person, making families feel right at home. Mr. Baker never met a stranger and he loved kids. His friendly demeanor and gently nature made visiting his store an enjoyable Woodlands area tradition. The Candy House was more than just your typical candy store. It was a beloved part of The Woodlands community, a place Donald Baker chose to make life sweeter for thousands of kids along the way.

This December 2 is set aside as the first annual "Mr. Baker Day" at The Candy House with a portion of the sales proceeds gathered from December 2 thru December 4 going to The Donald A. Baker Foundation.

On January 2, 2021, Mr. Baker passed away. His store was purchased in September by another family desiring to continue his tradition of serving the community and caring for kids. Mr. Baker's granddaughter, Kelly DiSalvo created a 501(c)(3) non-profit organization that was founded in memory of her grandfather to help local children in need. According to Kelly, "The mission of The Donald A. Baker Foundation is to fund and support programs that directly improve the health and well-being of children. By providing donations, toys, books, school supplies, and other fundraising events for children in need, we hope to bring life-long smiles and everlasting memories."

Kelly mentioned that 100% of all donations go towards helping kids. They have already donated to various children organizations including the Texas Children's Hospital.

How Can You Donate To The Donald A. Baker Foundation?

You can drop by The Candy House between December 2 and December 4, meet the new owners and purchase a variety of candy and sweets. Pick up some Christmas treats to honor Mr. Baker. A portion of the proceeds will go to his foundation to help kids in need. The Candy House is located at:

27160 Glen Loch Drive
The Woodlands,   TX   77381

Click here for directions

You can also donate directly to this organization by going to the following link:
https://www.thedonaldabakerfoundation.org/make-a-donation

You can view the Donald A. Baker Foundation Website at:
https://www.thedonaldabakerfoundation.org

You can view the Donald A. Baker Facebook Page at:
https://www.facebook.com/thedonaldabakerfdn/

The Legacy of Donald A. Baker Sr.

The legacy of Don Baker is one that will never be forgotten. He was an 89-year-old cancer survivor and veteran serving in the Navy from 1951 to 1954 during the Korean conflict. He and his wife Barbara Baker were married for 66 years. They were business owners of The Candy House located in The Woodlands, TX since 1989. Mr. Baker served over 3 generations of customers and provided smiles to the entire Houston community. Through his store, he was able to create a lifetime of joy and happiness for children of all ages. We here at The Donald A. Baker Foundation strive to continue his mission by funding and supporting programs that help to bring smiles and cheer to all children in need.