/

/

New Danville Volunteer Named Houston Texans Community Quarterback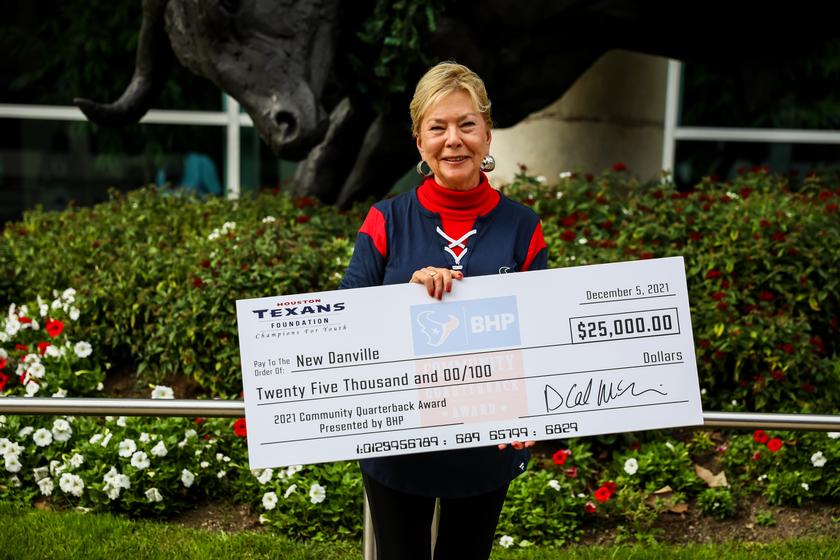 WILLIS, TX -- At the recent game between the Houston Texans and the Indianapolis Colts, several stars were celebrated. They hold a variety of roles and one was a quarterback, the recipient of the Houston Texans Community Quarterback Award. With the honor comes a contribution of $25,000 to New Danville in the recipient's name.

Odette D'Agostino received the award for her long-term dedication to New Danville. "I am honored and humbled," she said, "but I am so pleased that the award comes with the generous contribution to New Danville. Just like a football quarterback needs a team to win, I could not have been able to help New Danville without the incredible team of people associated with the organization…its clients, staff, volunteers, board and leadership, and my husband and family. Let's talk about that team, not me, okay?"

The team has managed for years the Jazzy Junque upscale resale store in Conroe that benefits New Danville, as well as established a major fundraising event called Tea on the Lawn (now named Spring Thing) and started a golf tournament this year that netted $100,000 for New Danville. The team has come through 2020 and 2021 to be stronger, wiser and even more focused on how to serve the needs of adults with intellectual and developmental disabilities.

The Houston Texans and BHP proudly reward the spirit of volunteering and giving back by presenting the award. Volunteers from any United Way of Greater Houston or THRIVE partner that goes above and beyond are eligible to win.

New Danville is a nonprofit rural community in Willis, TX for adults with intellectual and developmental disabilities.