/

/

Kingwood Resident Tammy Cooney Discovers the Value of Facebook To Help Bring Tachus' Fiber Internet Service to the Area
Kingwood Resident Tammy Cooney Discovers the Value of Facebook To Help Bring Tachus' Fiber Internet Service to the Area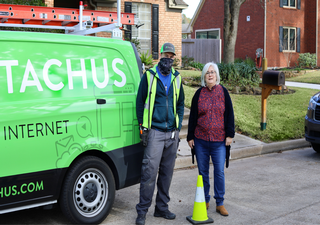 THE WOODLANDS, TX -- Tachus customers in Kingwood might be familiar with the Facebook group called, "Bring Tachus to Kingwood," a page co-founded by Kingwood resident Tammy Cooney to raise community interest in The Woodlands-based fiber-to-home Internet provider and bring its blazing-fast service to the area.

As the group's description states, the page was not created nor is it operated by Tachus, but by "Kingwood residents who want a reliable option to other providers."

Created in July 2020, the group now boasts nearly 800 members – some of whom are already active customers, while others say they plan to sign up for Tachus' fixed price, haggle-free service in the near future.

Cooney, co-creator and one of two administrators of the group, finally had her service installed in January. She first became interested in Tachus when she learned about CEO Hal Brumfield and his mother, a retired schoolteacher, who were looking for a better alternative to their Internet provider.

"I'm a retired educator myself, so the story really resonated with me," Cooney said.

A longtime Kingwood resident, Cooney was receiving Internet service from one of two providers in the area – and neither was providing the service she required.

"We were so disappointed with their speeds and customer service, and so ready for something new," she said.

When Tachus announced its entry into the Kingwood market, Cooney wanted to get the word out to her neighbors about the company's enrollment and construction process. That's when she and another Kingwood resident created the "Bring Tachus to Kingwood" group on Facebook.

"We created the group because we wanted to make sure our neighbors were getting accurate information about Tachus," she said. "We wanted to make it easier for people who don't check Tachus' website to stay informed about their work here."

Originally developed to share updates with residents directly from the Tachus website, social media, and email communications, the page has grown to be much more.

The group now serves as a forum for current and future customers to share their experiences about the Tachus construction process, as well as offering advice on how to make a smooth transition to Tachus. Members also share advice on which routers to buy, frequently asked technical support questions, and how to get the most out of their lightning-fast fiber Internet connection.

Residents who were considering switching to Tachus saw that they were getting support not just from Tachus but from their own neighbors as well, and as the group continued to grow, so did the number of Tachus customers in Kingwood.

Starting a Facebook group is fun and easy, and friends and neighbors interested in switching Internet providers are great first members to recruit.

Tachus loves to connect with communities throughout the Greater Houston area – the company is always looking for community champions to help get to know area residents and keep lines of communication open with them. In this day and age, there's no better way to do that than with the power of social media.