/

/

Tachus expands service in Montgomery County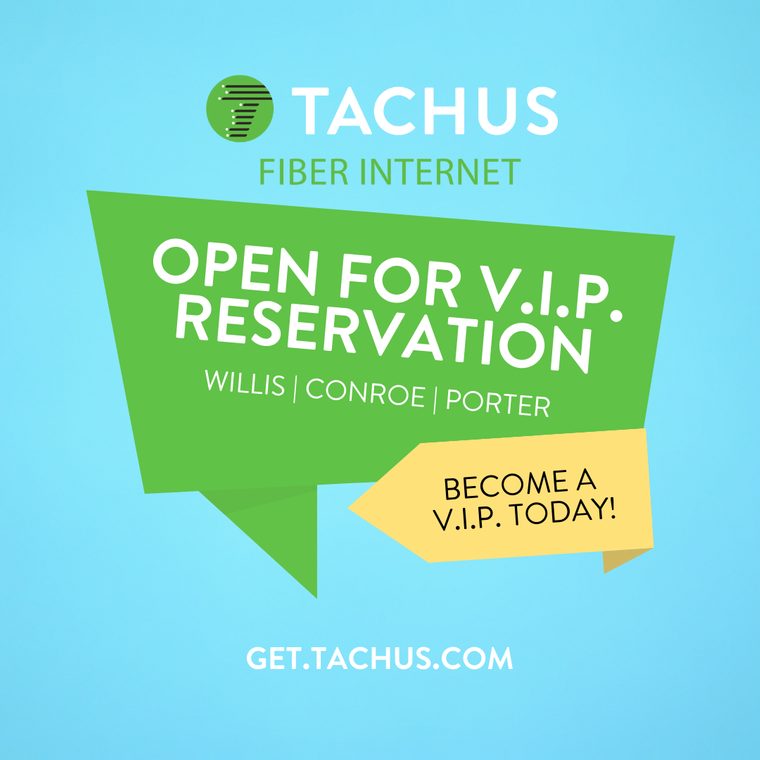 THE WOODLANDS, TX -- Tachus Fiber Internet, one of the fastest-growing fiber-to-the home Internet service providers in Texas, announced that they are expanding their 100% Fiber-optic to the home service in Montgomery County that will bring blazing fast fiber Internet service to over 20,000 homes in Willis, Porter, and Conroe.
Local Fiber Internet Provider to Bring Blazing Fast Network to over 20,000 Homes in North Montgomery County, Willis, Porter, and Conroe.
The move comes as part of Tachus' effort to meet the growing demand for an Internet service provider that Montgomery County communities can trust by offering unlimited, enterprise-grade data-only services at a lifetime fixed rate, all paired with local customer service.
"Tachus has so much to offer area residents of Montgomery County who are seeking a reliable, exceptionally-fast Internet connection that we knew it was time to expand our geographic footprint further in our home county," Tachus CEO Hal Brumfield said.
Launched in The Woodlands in 2018, Tachus set out to revolutionize the way residential customers receive their Internet service by offer blazing-fast fiber and honest, transparent customer support. Nine months later, Tachus connected its first customer to the Internet in the Bentwater Community on Lake Conroe.
Since then, Tachus has continued to grow, offering its 100 percent fiber-to-the-home connection as well as exceptional customer service to communities in The Woodlands, Lake Conroe, Porter, Kingwood, Atascocita – and coming soon to more than 20,000 more homes in Montgomery County.
In just three short years, Tachus has signed up more than 17,000 local subscribers. In addition, the company's fiber-optic network has passed more than 60,000 households in the region, and Tachus employs more than 150 workers – all of whom are based in the Greater Houston area. In 2022, the company plans to more than double its Houston area footprint, underscoring its commitment to the local market.
"We're excited to be able to welcome more customers in Montgomery County to the Tachus family," Tachus Chief Strategy Officer Carter Old said. "Our responsibility is to provide residents with a state-of-the-art fiber Internet connection, an unmatched customer experience, and to support our community partners, such as United Way of Greater Houston, the Montgomery County Food Bank, Angel Reach, the Montgomery County Women's Center, Meals on Wheels, and local teams and schools. Tachus is committed to the communities we serve."
Montgomery County residents who are interested in signing up for Tachus service or determining whether service is available in their neighborhood should visit
https://get.tachus.com
.
To learn more about more about Tachus Fiber Internet, please visit
www.tachus.com
or call (832) 791-1100