HS Girls Soccer Playoffs: The Woodlands Take Down Spring to Move to Area Round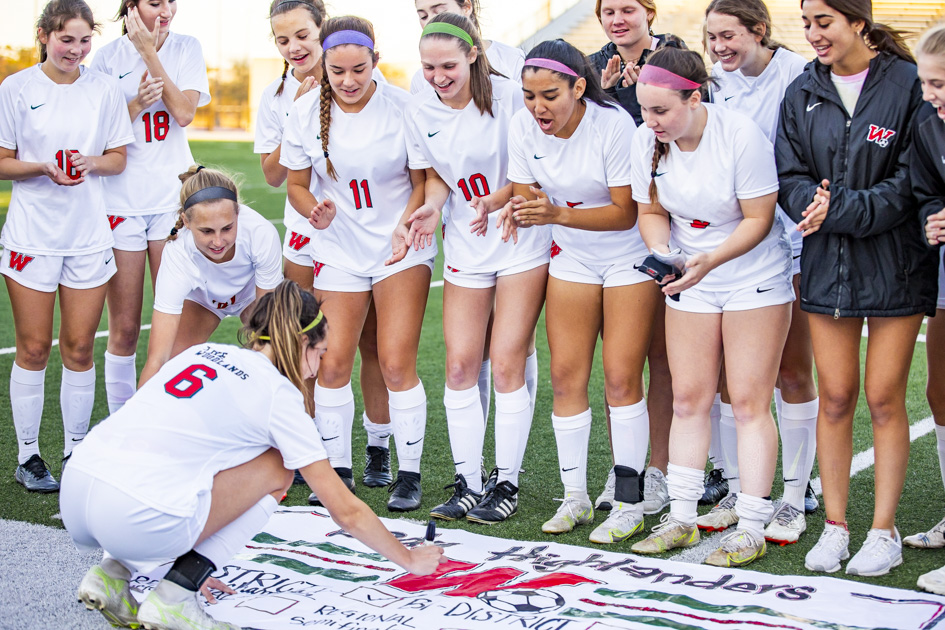 THE WOODLANDS, TX – The Woodlands Lady Highlanders hosted the Spring Lady Lions on Thursday as part of the UIL Girls Soccer Tournament. The matchup was held at the Woodforest Bank Stadium with The Woodlands coming in as the top seed in the district and Spring coming in as the fourth seed in their respected district.


At here at Woodforest Stadium for the first round of the playoffs.

The Woodlands v Spring@twhsgirlsoccer pic.twitter.com/zBofcJ39sh

— Woodlands Online Sports (@WOLsports) March 24, 2022
Off of the kickoff, The Woodlands put on a clinic as they cut through the Spring defense and attacked the goal at every opportunity. With their first goal hitting the back of the net within six minutes of the start. Unfortunately, this was called off due to an attacker being offsides. But, just a few minutes later in the 30th minute, The Woodlands would strike again, and this time it counted. This started their clinic as the goals would just start pouring in and within a few seconds of their last goal, The Woodlands would strike again.
By the first half The Woodlands broke down Spring and continued to attack the goal. As the 4th minute passed by, they were already up 4-0. Spring was able to hold them off as the halftime buzzer rang. Spring and The Woodlands would end the half with The Woodlands leading 4-0.
Going into the second half Spring needed to jump on the ball quickly to gain the lead but unfortunately The Woodlands was first to strike. Again, the goals just poured in as the starters broke through the Spring defense. With goals a 36, 31, 29 and 27 minutes The Lady Highlanders brought their lead up to 8-0. With one last push to the goal, Spring was entitled a free kick due to tackle from the goalie. With no time left they were able to chalk one on the board preventing The Woodlands from a shutout.
The Woodlands will move on to the 2nd round of the UIL Girls Soccer Championship. "I saw a lot of great kids do a lot of valuable things," said Head Coach Frankie Whitlock. "I think we got a whole lot deeper tonight from what I saw."
Coach Whitlock continued, "To me they're [Lady Highlanders / "The team in white"] all very important in this program. So, we try to go with a team concept not the individual concept and I saw a team play well tonight."
The Lady Highlanders move to the Area Round!

Final
The Woodlands - 8
Spring - 1 pic.twitter.com/EFoXPvLs6B

— Woodlands Online Sports (@WOLsports) March 25, 2022