/

/

Evan Berlin officially kick starts his campaign for CISD Board of Trustees Position 1
Evan Berlin officially kick starts his campaign for CISD Board of Trustees Position 1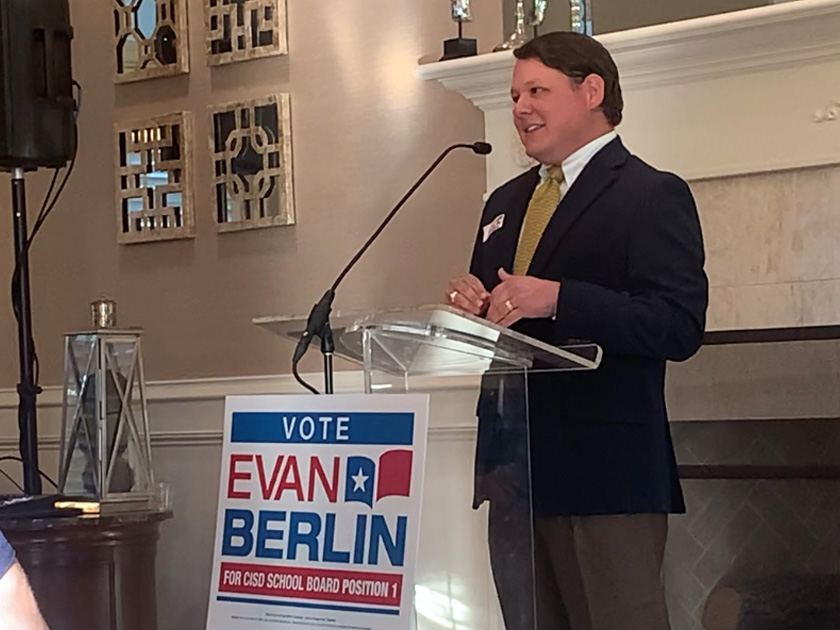 THE WOODLANDS, TX – On Wednesday, September 14, Evan Berlin hosted a campaign kickoff event at the East Shore Club in The Woodlands. With many supporters on hand, Evan announced his candidacy for CISD Board of Trustees Position 1, currently held by Dale Inman. Evan was introduced by Denise Cipolla, former head of counselors for CISD, and Tessa Stuckey, nationally recognized author, CISD graduate, and well-known mental health advocate and therapist. Evan is one of five candidates for Position 1 and during the event, Evan outlined his approach to education and his vision of what he would do if elected to this seat.

Trustees are elected from the local community. Evan grew up in The Woodlands and currently is a resident of Conroe. During the event, he showcased his extensive involvement in helping the community through his various volunteering efforts that included the Montgomery County Food Bank, Advocates for Children CASA, Angel Reach and Yes To Youth. For Yes to Youth, he mentioned starting their very first tutoring program. He was a foster child and was diagnosed with dyslexia as a young man. He spoke about his adjusting to his diagnoses and stressed the need to improve and advance programs for children at risk. In addition, Evan ran his own nonprofit group for five years to benefit children called the Constellation Foundation. Evan explained that at his heart, he has spent most of his life advocating for kids and desires to serve on the CISD Board of Trustees to help give direction and accountability to our county public education system.

Click here to view Evan Berlin's Campaign Website


About the CISD Board of Trustees

The CISD Board of Trustees has 7 positions in total. Three of those seats, positions 1, 2 and 3 will be open for election November 8 of this year. Positions 4, 5, 6 and 7 will be open for election in November 2024. Trustees are elected to a 4 year term and have the exclusive power and duty to oversee the district management and evaluate the performance of its superintendent. All powers and duties not specifically delegated by state law to the Texas Education Agency (TEA) or State Board of Education (SBOE) are reserved for the trustees.

What does a school board trustee do?

Although there is no one definition for a school board trustee, according to the Texas Association of School Boards, trustees:

- Ensure the creation of a vision and goals for the district and evaluate district success

- Adopt policies that inform district actions

- Hire a superintendent to serve as the chief executive officer of the district and evaluate the superintendent's success

- Approve an annual budget consistent with the district vision

- Communicate the district's vision and success to the community


Who is running for CISD Board of Trustees Positions 1, 2 and 3 in the November 8 election?

According to CISD, the following are the candidates for positions 1,2 and 3:

Position 1

- Evan Berlin
- Serafin Farias
- Ashley Fehrle
- Mike Midler
- Tiffany Nelson

Position 2

- Ray Sanders
- Melissa Dungan

Position 3

- Misty A. Odenweller


How to learn more about the CISD Board of Trustee election

Click here to learn more about the board of trustee election.