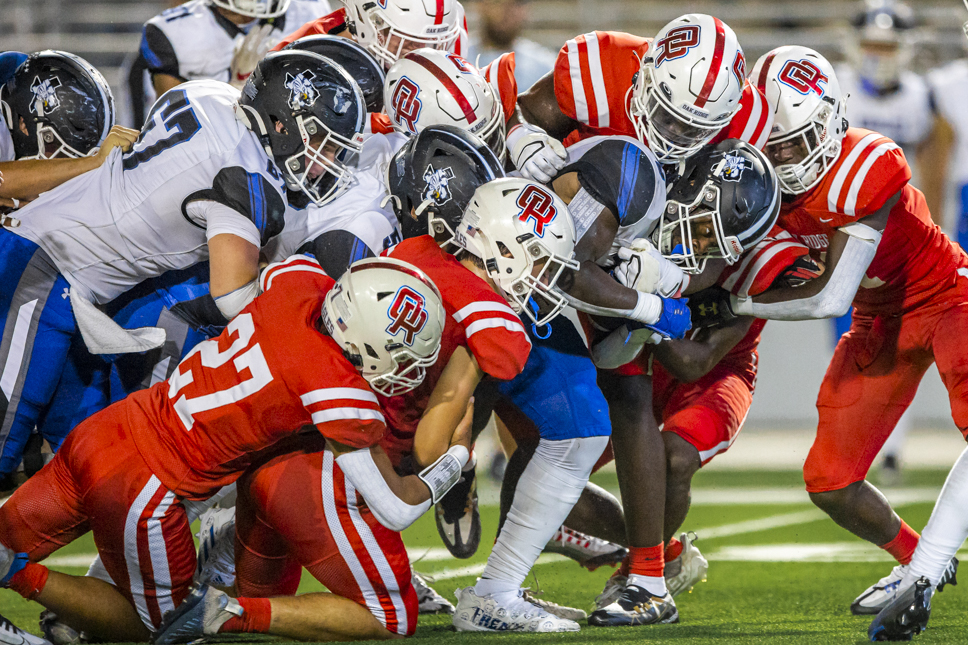 THE WOODLANDS, TX – After a huge win over The Woodlands, New Caney travels to Woodforest Bank Stadium to face the Oak Ridge War Eagles. Coach Mark Schmid and the War Eagles look to get their first district win as Coach Travis Reeve and the Eagles try to continue their undefeated streak.

Oak Ridge was set to receive as New Caney deferred to the second half. In the opening drive quarterback Steve Smedley tossed one up to wide open Elijah Porter who ran one in to give Oak Ridge a quick 7-0 lead.

Just a couple minutes later, after the War Eagles stopped the Eagles, Frankie Arthur would run through the New Caney defense to increase the Oak Ridge lead 14-0.

Although the momentum was on the Oak Ridge side, Cj Blocker, of New Caney, would receive the kickoff from deep in the endzone. Teammates would wave for a knee but Blocker would cut through the Oak Ridge defense and put New Caney up on the board with a 103-yard kickoff return.

In the War Eagle's opening drive of the second quarter, Defensive Back DJ Lewis, would pick off Smedley for a New Caney pick six. This would tie the game at 14.

Later in the second, The War Eagles were in the Eagles territory inching towards the goal line. With a hand off to Larry DeBose, Oak Ridge would once again take the lead before the half.

With less than a minute to go, New Caney would make one last push before halftime. Once again Kedrick Reescano would line up in a wildcat formation and run it in from six yards out.

After the half, the defensive battle went on throughout the third quarter. Each team would try to score but would come up short.

It wasn't until the fourth where New Caney broke through the Oak Ridge defense and shut down their offense. Kedrick Reescano would take the ball into his own hands and run it in for two more scores. This gave the New Caney Eagles the lead and essentially the win, 35-21.


They would stay undefeated as they head into a bye week to recover before facing the Conroe Tigers October 7th. Oak Ridge will also face Conroe next week at Buddy Moorhead Stadium.