/

/

7th Annual Great Pumpkin Shoot Feeds Seniors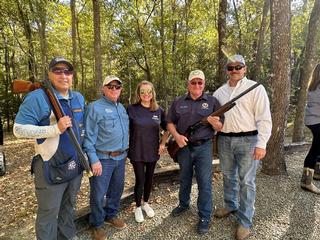 CONROE, TX -- The 7th Annual Great Pumpkin Shoot, with Meals on Wheels Montgomery County (MOWMC) was able to secure funds to provide 22,000 meals to homebound local seniors! MOWMC wanted to provide loyal supporters the opportunity to experience the beautiful course at Abel's Sporting and Gun Club in the majestic Piney Woods of Huntsville on the perfect Fall day.

The venue change did not alter the outcome with a wildly successful event with an incredible auction, delicious food catered by Honor Café, and many teams of shooters who came to enjoy the day while supporting Meals on Wheels Montgomery County.

"We are grateful for our sponsors and participants because the funds raised at this event are critical to ensure we can continue being a lifeline of support for our homebound senior neighbors", stated Carrie Watkins, coordinator for the event and Director of Community Development for Meals on Wheels Montgomery County. "It takes a multitude of funding sources to sustain our services because often we are caring for our clients for the rest of their lives. Our staff and volunteers are dedicated to delivering a hot, nutritious meal to keep our seniors healthy, bringing a friendly smile for those who live alone, and a daily check to ensure our seniors continue to live safely in their homes."

Top winning shooters on the Woodforest National Bank Course:

• Ist Place- Commissioner Robert Walker Team with 360 points (Commissioner Pct 1-Robert Walker, County Judge Mark Keough, Commissioner Elect for PCT 4 Matt Gray, Jeff Cannon)

• 2nd Place – Woodforest Wealth Management Team with 344 points (Jason Harris, Cam Dickinson, Noah Ruby, Richard Johnston)

Top winning shooters on the Waterway Wealth Management Course:

• Ist place -Team Dude with 381 points (Roger Kolas, Brian Gremminger, David Alexander, Brian Richardson)

• 2nd place- Legacy Outfitters with 354 points (Will Simpler, Ron Lout, J.T. Dibble, Tom Williams)

Cowboy Kia was our presenting Sponsor this year for the new venue! Other sponsors include Commissioner Robert Walker, B Sloan Law, Teligistics, Woodforest National Bank, Entergy, Kodiak Gas, Caliber Solutions, The Howard Hughes Corporation, Entergy, Waterway Wealth Management, Western Midstream, #LiveLikeJack, Waste Connections, and B Porter Hedges.

MOWMC provides more than just a meal to homebound seniors. Volunteers provide a friendly face and a social visit as well as a safety check. These visits play a critical role in preventing depression and other health issues associated with isolation. Seniors look forward to their meal delivery which brings conversation and much-needed connection.

Each $125 dollars donated feeds a senior for an entire month. MOWMC can deliver meals to a homebound senior for an entire year lower than the cost of one day in a hospital or ten days in a nursing home. Donate online at https://www.mowmc.org/donate.

Since 1973, MOWMC has had a successful history of delivering meals to local homebound seniors, delivering 31,000 meals monthly. Volunteers deliver meals along ninety routes throughout the 1,000 square miles of Montgomery County. Additionally, MOWMC's curb-to-curb transportation service provides more than 17,000 rides to the disabled and seniors annually. With a mission to foster independence and maintain the dignity of each homebound senior by providing nutritious meals, transportation, and caring connections, MOWMC can always use additional volunteers and donations. More information about Meals on Wheels Montgomery County can be found at www.mowmc.org or on the Facebook page: www.Facebook.com/MealsonWheelsMC

Volunteers are always needed to help with delivering meals, events, prepare mailings, and assist with program needs. Start a food drive, decorate breakfast bags, create personalized birthday cards, or host an office workday at the Meals on Wheels office. Email Lisa Varholy, Volunteer Relations at Lisa@mowmc.org or view www.mowmc.org/volunteer/ for details.

More information about Meals on Wheels Montgomery County can be found at www.mowmc.org or on the Facebook page: www.Facebook.com/MealsonWheelsMC.