/

/

Interfaith of The Woodlands Reveals Eight Community Champions Who Will Be Honored at The Walk The Woodlands
Interfaith of The Woodlands Reveals Eight Community Champions Who Will Be Honored at The Walk The Woodlands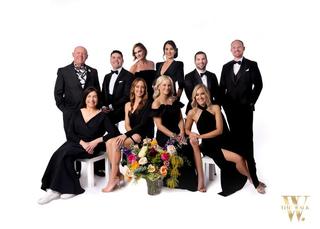 THE WOODLANDS, TX -- Interfaith of The Woodlands hosted The Walk Reveal Soirée on Wednesday, April 26 which was generously hosted by Sewell Audi North Houston in Market Street. Eight Community Champions who have been vital in furthering the mission of Interfaith of The Woodlands, and who have impacted countless lives by investing in Interfaith through their professional achievements and personal contributions, were announced.

Chosen through a selection committee, the eight Community Champions, presented by St. Luke's Health, include: Will Bonilla, Erin Doré, George Lindahl, Michelle Little, Julie Mayrant, Heather Sanford, Chef Austin Simmons and Tony Torres. The Walk is creatively led by renowned Houston fashion show producer, Lenny Matuszewski, Jr., the event includes a New York-style runway fashion show featuring designs from Saks Fifth Avenue, as well as a luxury bid board and live auction. The Walk is adding an exciting new element this year as well: a Best Dressed Competition for attendees, where one dollar equals one vote. The eight Community Champions will star in the Runway Finale, leading guests into a one-of-a-kind After Party.

"We are honored to live, work, and play in a community filled with people who have a heart to serve. Our 2023 Community Champions are model examples of people who are committed to continuing the work of building a loving and caring community through their various local involvements. We are happy to be celebrating them on August 26th," shares Missy Herndon, Interfaith of The Woodlands President & CEO.

The Walk, presented by Richie's Specialty Pharmacy, will be held at The Woodlands Waterway Marriott Hotel and Convention Center on Saturday, August 26, 2023 from 6pm to midnight. Chaired by Carrie Greenberg and Kristen Byrnes, all event proceeds will fund programs offered through Interfaith of The Woodlands, designed to assist South Montgomery County neighbors in need.

For sponsorship opportunities or further event details, please visit woodlandsinterfaith.org/the-walk or contact Amanda Poole, Interfaith of the Woodlands Director of Development, at development@woodlandsinterfaith.org or 832-615-8225.

Community Champions and their bios.

Will Bonilla
Will Bonilla began his career at Sewell Automotive Companies in 2009 as a Sales Associate. His dedication to delivering unparalleled customer service as well as building relationships with his customers, community, and associates lead to his current role as General Manager at Sewell INFINITI of North Houston. Through his leadership, his team has earned the INFINITI Award of Excellence for five consecutive years, an honor given to fewer than one in five INFINITI retailers in recognition of their dedication to customer service excellence and performance. Will's vast experience, knowledge, and expertise led to his involvement in the INFINITI Dealer Council. As a board member, Will is integral in making strides to develop processes and streamline systems in order to enhance the relationship between the dealership and manufacturer. Prior to beginning his career at Sewell Automotive Companies, Will graduated from SMU with a bachelor's degree in Finance and minor in Economics. A proud Alumni and active member, Will earned a full scholarship to the prestigious university as a walk on for the football team and quickly became a defensive MVP during his Junior year. Will is married to his wife, Kim, a former SMU athlete. Together, they share four children and reside in The Woodlands where they are fully committed to giving back and improving the community they have the privilege to serve. The Bonilla family enjoys spending time supporting organizations including Interfaith of The Woodlands, Salvation Army Angel Tree, Exxon Mobile, United Way, Market Street, and St. Anthony of Padua Catholic School.


Erin Doré
Erin Doré was born and raised in New Iberia, Louisiana. She attended LSU and is a graduate of the University of Louisiana Lafayette. Erin is married to her high school sweetheart, Lucas Doré. Together they moved to The Woodlands in 2010 with their 2 children Ava (17 years old) and Aiden (15 years old).

Erin has previously served on Interfaith's Celebration of Excellence Committee for 5 years. She also co-chaired Hope Under The Stars, which benefits Batten Disease and has served on various committees for the organization. Notably, Erin was most recently co-chair for the inaugural year of The Walk in 2022.

In her spare time, Erin loves to serve on mission trips with her family and friends where they provide teeth and eye exams for villagers in Honduras, as well as working with orphans in Guatemala. She is a member of The Woodlands Methodist Church and describes herself as a foodie with a serious shopping addiction.

George Lindahl
George was born in 1946 in Birmingham, Alabama. He is married to Kristi Lindahl and they have 4 daughters and 9 grandchildren. George graduate from The University of Alabama in 1968 and from graduate school at Tulane University in 1972 with degrees in geology and geophysics. He attended Harvard amp in 1992.
 
George's career in oil and gas spans 45 years capping a career as ceo/president/chairman of union pacific resources (a fortune 500 company) and served as vice chairman Anadarko Petroleum from 2000-2004
 
George works full time as a volunteer for numerous nonprofit charities. His goal thru serving and financial investments is to make 'transormational change'.
 
George is past chairman of Houston Museum of Natural Science (lifetime trustee) and past chairman of woodlands pavilion.  He is lifetime board member of Goodwill of Houston.   He chairman of the interfaith advisory board, serves on the board of angel reach and the Methodist church ppr board. Serves on the geological board at the University of Alabama. Over the past 16 years George has served on 16 nonprofit boards and 3 for profit boards (2 being fortune 500 companies)

George's passion is serving the 'lest last lost and looked over."

Michelle Little
Michelle Little and her family arrived in The Woodlands from California in 2011, as part of the Waste Connections corporate relocation. After a couple of years in their new home, Michelle and Jim welcomed daughter, Melba. With other family members making the move to this area, Michelle is never at a loss for childcare and always has a great group with her enjoying all that The Woodlands area has to offer.

For most of her 15+ years with Waste Connections, Michelle worked in an accounting position. In 2019, she transitioned into an engagement role, focusing on Waste Connections' involvement with their employees, HR digital platform, community giving as well as social media. She now serves as the Vice President of Engagement Solutions.

Since 2015, she has chaired the Waste Connections Golf Classic for Kids, a tournament that has raised nearly $10 million in support of children's and women's charities primarily in Montgomery County. Her work with Interfaith has shown her first-hand how these funds benefit the Weekend Backpack and Kits 4 Kidz programs, food pantry and provides funds to keep families and seniors in their homes, giving families much needed help during a time they need it most.

Michelle is involved with many organizations throughout South Montgomery County, holding board and advisory positions with Inspiration Ranch, Angel Reach, and CASA Child Advocates, while also actively involved with St. Anthony of Padua Catholic School's Advisory Board and her daughter's Girl Scout Troop. Becoming a mother has heightened her awareness of children in need and has driven her to give so much of her time to numerous causes throughout the area. Watching Melba and her friends achieve confidence and discover sisterhood has been one of her most rewarding experiences.

Julie Mayrant
Julie Mayrant is the President and Chief Retail Officer of Woodforest National Bank, a privately held bank with more than 773 branches across a 17-state area. A pioneer in instore banking, Mayrant shaped the retail footprint that transformed Woodforest National Bank from one instore branch to 737 instore branch locations. Mayrant introduced a one-stop-shop customer experience, primarily within Walmart stores, that has been the impetus of Woodforest's retail banking success.

Mayrant began her career as an Assistant Branch Manager for Klein Bank and joined Woodforest National Bank as a Branch Manager in 1996 to pilot the first instore branch location in a Walmart Supercenter. Due to its success, Mayrant championed a standardized instore retail banking business model that could be replicated within other retail locations.

A graduate of Sam Houston State University, Mayrant served as a Board Director of The Independent Bankers Association of Texas (IBAT) for eight years and now resides on their Services Board. Mayrant has been a Board Director of Interfaith of The Woodlands since 2019 and previously served on the Board of Directors for Cynthia Woods Mitchell Pavilion, Financial Women in Texas (FWIT) Conroe Chapter, Bridgewood Farms and Junior Achievement.

Julie and her husband, Jerry, have one son, Jake, who is a graduate of Belmont University and lives in Nashville, Tennessee. Mayrant is a cancer survivor and amputee due to the disease. In addition to other political and charitable causes, they actively support the Woodforest Charitable Foundation, Interfaith of The Woodlands, and Crossroads Baptist Church.

Heather Sanford
Heather Sanford hails from Odessa, Texas, and is a graduate of Permian High School (of 'Friday Night Lights' fame). She earned her degree at The University of Oklahoma where she also met her husband, Kyle, with whom she shares two cherished daughters, Sophie (16) and Remington (9). In 2010, Kyle, career path led the Sanfords to The Woodlands, where they have loved living and raising their girls.

They have since planted their roots within the community, both in friendships and philanthropy. Heather has been involved with Interfaith in some capacity for the last ten years. Her heart is fulfilled when she is volunteering and has served on the committees of both Celebration of Excellence and Giving Goes Glam for several years, and most recently, she co-chaired the inaugural The Walk event last August. 

Heather enjoys fitness, fashion, and traveling, as well as helping people achieve the American dream as a Realtor with The Holland Home Group. She is a member of The Woodlands United Methodist Church and a pillar in her community.

Chef Austin Simmons
Originally from Arlington, Texas – Executive Chef Austin Simmons attended Le Cordon Bleu College of Culinary Arts in Austin and started his culinary career working for celebrity chefs such as Dean Fearing and John Tesar.

In 2010, he moved to The Woodlands and joined the Hubbell & Hudson Market & Bistro, quickly becoming responsible for the company's culinary direction, including the Black Walnut and The Kitchen concepts. In 2018, he reimagined the Bistro concept and renamed it 'TRIS' - after his beloved daughter - to elevate the dining scene in The Woodlands' Waterway square. TRIS is the only restaurant in The Woodlands that repeatedly makes it to Alison Cook / Houston Chronicle's Top 100 Restaurant list and earned the Top 10 spot in 2023.

Simmons also introduced creative culinary experiences to The Woodlands with his unique Cureight – an eight-course dining experience – which was at the time viewed as the Best New Restaurant by Patricia Sharpe / Texas Monthly. Chef Austin's "CollaborEIGHT" dinner series idea helped him partner with local and national culinary talent here in The Woodlands. Among many accolades he received over the years, the most recent ones include his win of the Truffle Master competition and the 'Best Chef' in Houston title by Houston Press.

Family & Community is very important for Chef Austin; and that's why he is involved in many local organizations – such as Interfaith of The Woodlands over the years.

Tony Torres
Tony Torres is the Houston & New Orleans Audit Managing Partner for Deloitte. Tony has 30 years of experience serving public and private enterprises and is the lead partner to some of the region's largest SEC registrants. Tony lends his expertise to clients in retail, real estate, consumer services, consumer products, and manufacturing + technology.

During his career, he has established himself as a trusted leader in various roles including as the Audit and Assurance Chief Inclusion Officer, Office Talent Leader, and the Audit and Assurance Pro Bono Services Leader. He was also a member of the AICPA National Commission on Diversity and Inclusion for many years. He is the resident expert and marketplace spokesperson on retail and consumer insights and can be seen regularly quoted by the Houston Chronicle during back to school and the holiday season. He is a CPA licensed by the state of Texas and a member of the Texas Society of CPAs and the American Institute of Certified Public Accountants.

Deloitte's Houston office provides Audit, Tax, Advisory, and Consulting services to more than 90% of the region's Fortune 500 organizations. The firm is currently the 4 th largest employer in Downtown Houston with over 3,400 professionals and was ranked #17 on Fortune's '100 Best Companies to Work For' and one of Houston Chronicle's 'Top 100 Employers.'

Co-Chairs: Kristen Byrnes and Carrie Greenberg

Kristen Byrnes
Kristen Byrnes has been a resident of The Woodlands since 2015 and owns Teacups and Tadpoles, a children's boutique in Panther Creek. She and her husband have a girl and two boys, ages 8, 6 and 4.

Carrie Greenberg
Carrie Greenberg has been a resident of the Woodlands since 2016. She grew up in Colorado and enjoys helping in the community. She has spent time volunteering for Interfaith, Yes to Youth, the food bank at St Anthony of Padua and other community organizations. Carrie and her husband, Dr. Scott Greenberg, have two girls ages 6 and 8.