/

/

Woodlands Christian Celebrates College Decision Day with Record Breaking Results
Woodlands Christian Celebrates College Decision Day with Record Breaking Results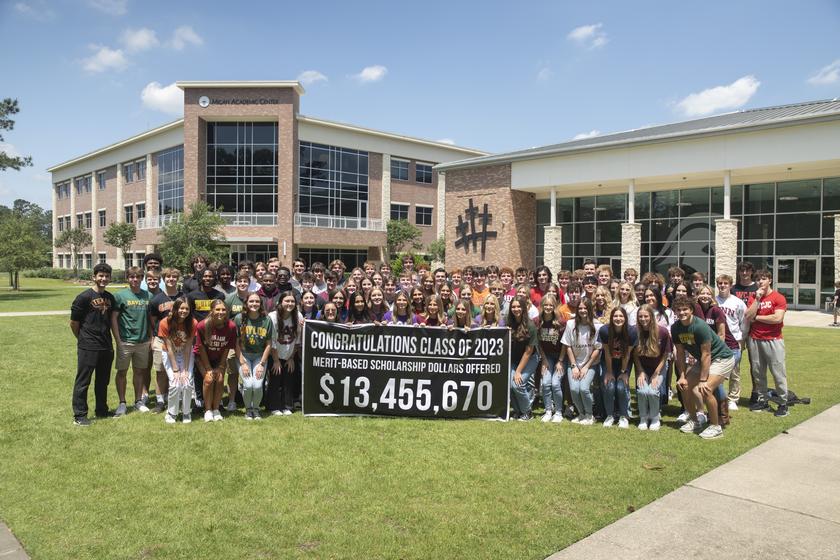 THE WOODLANDS, TX -- The Woodlands Christian Academy is proud to announce the accomplishments of its Class of 2023 on College Decision Day. This year's senior class has set a new school record with $13,455,670 in merit-based scholarship dollars offered, averaging an impressive $145,000 per student.

The Class of 2023 has received an impressive 450 college acceptances, and the school is thrilled to have two National Merit Finalists in this class - an achievement that reflects their dedication and hard work throughout their academic careers.

In addition to these incredible accomplishments, there have been multiple ivy league and honors college acceptances. The Class of 2023 has achieved great success in securing four appointments to military academies, including West Point and the United States Air Force Academy. This is all a testament to the academic rigor of The Woodlands Christian Academy's curriculum.

'We are immensely proud of the Class of 2023 and all that they have accomplished,' said Amy Rowe, the school's Director of High School Academic & College Advising. "Their achievements reflect their dedication to education and commitment to excellence. We are excited to see what the future holds for these talented young men and women.'

Woodlands Christian offers a rigorous academic program with college preparation starting in 8th grade and SAT/ACT test prep for 9th-11th grade. One hundred percent of graduating seniors are admitted to colleges or universities. Woodlands Christian is now enrolling grades PreK - 12th (waitlists in some grades) for the 2023-2024 school year.