/

/

/

TFC's Director of Coaches & Player Development
TFC's Director of Coaches & Player Development
By:
Total Football Club Soccer | Published 12/30/2022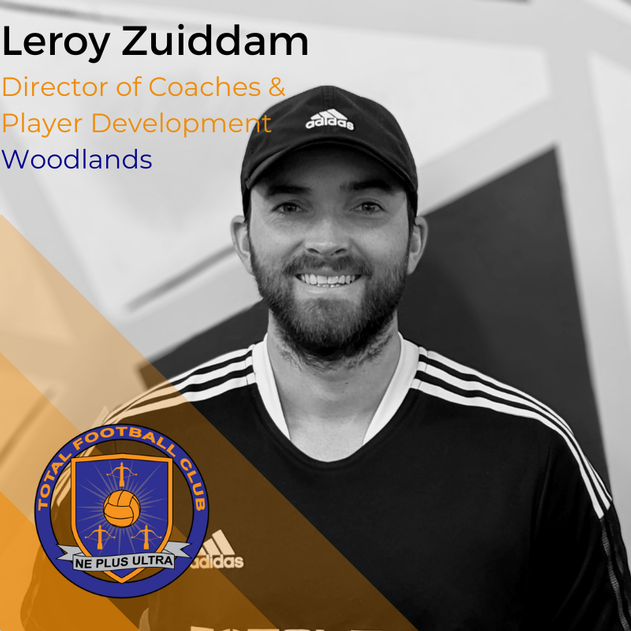 The Total Football Club is beyond proud to have Coach Leroy Zuiddam as the Leader of our Woodlands Area location. Leroy hails from the Netherlands and with him he brings a hunger to be the best youth "football" (soccer) educator for our coaches and all of TFC's players. His motto is "Development never stops!!!!"
In his word, "I am a hardworking coach and a forever student of the game of football (soccer), a creative and visionary coach and a full believer of individual player development within the team environment. I am someone who puts a lot of variety, focus and challenges in the technical, tactical and mental aspect of the practices and games."
With his impressive background and tenacity you can see why TFC's is proud to call him Director and Coach!
Coaching Licences:
UEFA B License
USSF B License
Masters in High Performance Football (MBP: School of Coaches)
College Degrees:
Colleges: (the Netherlands)
Associates in Sports Education Level 3 @ Albeda College (Rotterdam)
Associates in Sports Education Level 4 @ Cios College (Goes)
Coaching Experience:
Location Manager/Director of Coaching Total Football Club Woodlands
Houston Dutch Lions Academy Coach (All Ages) & Assistant Coach NPSL (Semi-Pro)
Coaches Educator in Lithuania at FK Panevezys through the ages of 13-18
Assistant Coach at Sparta Rotterdam U14 (Professional Youth Academy of Sparta Rotterdam)
Head Coach of VV Lewedorpse Boys U13 and 2nd Men's Team
Youth Academy Coach at FC Binnenmaas through the ages of U13-15
Meet Coach Leroy Blogs: (2)
Articles by Month of Posting