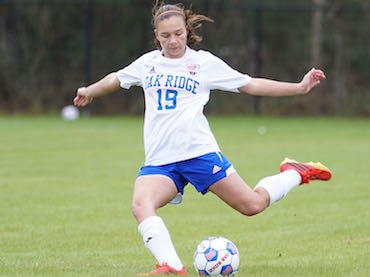 CONROE, Texas - The College Park Lady Cavaliers and the Oak Ridge Lady War Eagles varsity soccer teams tied 1-1 on Tuesday night, proving after their second tie against each other this season that these cross-town rival teams really do match up quite equally.

This draw appears to have secured Oak Ridge's (4-1-3) third place spot in district play, ensuring they will advance into the postseason after the final three games of district are completed. Both teams were playing for a spot in the playoffs, with College Park (2-4-3) needing a win and Oak Ridge a tie for definite advancement.

"To be honest with you, if you would have told me we were going to tie, I would have taken it because a tie basically locks us into third place. They needed a win and we needed a tie, so we played more defensive," said Oak Ridge coach James Collins. "Sure, it is nice to win a soccer game, but sometimes you have to think about the bigger picture and the result, and that result locks us into third place and we are very happy about that."

The first goal of the game came in the 7th-minute from Lady War Eagle Alyssa Smith. Smith finished a cross via Janneth Tello, making sure to anticipate Tello's cross across the face of the goal and time her run to meet the ball. Tello initiated the play by getting ahold of the ball and running it down the right sideline, where she crossed the ball to the left and allowed Smith to run onto it. This was the only goal for the Lady War Eagles, but did ensure they get points on the board against the Lady Cavaliers, unlike their last meeting in 2015 district play where the two teams tied 0-0.

College Park was not about to allow their opponents outscore them, and came back with just 58 seconds left in the first half to score their lone goal of the game. Lady Cavalier Isa Sanabria headed in a corner kick played by Maria Rossi, bringing the score to 1-1 before half time. Sanabria made sure to move her feet and follow the path of Rossi's lofted corner kick, and got on the end of the ball before many realized what was happening. Sanabria's speedy play made it nearly impossible for Oak Ridge goalkeeper Nikki Testerman to get to the ball before it landed in the back of the net, and brought the two teams to a familiar situation, following their tie against each other weeks before. '

Both coaches were happy with their team's performances, and were willing to take a tie against each other. The game was characterized by a mutual level of respect on both sides.

"I think the girls played with passion tonight, both teams were fighting really hard, and it was a great game on both sides," College Park head coach Meredith Cook said. "Hard work on both sides of the ball caused us to come up with a great play."

With just three games left in district play, the stakes are high for many teams; currently, the Woodlands ranks first in district, holding a perfect 9-0-0 record, and is trailed by Kingwood in second place.

Oak Ridge has secured no worse than the third place spot, losing to both the first place teams in the first round of play.

Oak Ridge will have a chance at this redemption on Friday, March 6, as they face the Woodlands at Woodforest Bank Stadium at 7:30pm, in a game broadcasted live on Woodlands Online.

College Park will face Summer Creek at home, whom they beat 6-3 earlier this season. Following Friday's district slate, the teams will receive a week long break and meet back up on the field on Friday, March 13.